Turkey is such a diverse country attracting thousands of visitors every year and yet steeped in ancient traditions and culture. Millions of people from the UK holiday in Turkey and, on the face of it, in the holiday resorts at least, the face they see is thoroughly modern. However, away from the tourist towns and coastal communities, the ancient culture and traditions of Turkey are still found in its art and crafts as well as in people's lifestyles.
What have survived for thousands of years are the colourful and beautiful designs used on ceramic plates and bowls and accessories such as table cloths, napkins, cushion covers and scarves.
You don't have to travel to Turkey to see these gorgeous products, as they are being sold in the UK by a Turkish lady, Yuksel Pain, who lives in Somerset and has an online shop. Yuksel's website – www.snugandcosyhomeshopping.co.uk – offers you the chance to choose an authentic Turkish product in the comfort of your own home. She is passionate about sharing the beauty and culture of Turkey with British people. You don't have to leave your home to be able to choose a nice piece of Turkish ceramic for your kitchen, pick out a colourful scarf or hand-crafted necklace to wear yourself, or you can just decide on something that will decorate your home or something that you can give as a gift to a friend or relative.
We may be living in the 21 st century, but these authentic, handmade ceramics and accessories are full of ancient meanings and that is the true wonder of Turkey – an eclectic mix of old and modern.
All traditional crafts in Turkey have a long history and are made in the same way as they were thousands of years ago, and the composition of the clay, paints, and glazes are exactly the same now as they were when the Sultans were living and ruling the Ottoman Empire since the 15th century. The owner of Snug and Cosy Homeshopping, Yuksel, said:
"We are so fortunate to be able to admire the intricate patterns, shapes, colours and designs on all the well-crafted dishes and bowls that are in the Snug and Cosy range just as the Sultans did before us. And these traditional ceramic treasures are not only signed by their artists, but also match the needs of the modern dining experience."
In Islam, it is forbidden to portray human figures, so the designs of the beautiful Turkish ceramics that you can get from Snug and Cosy Homeshopping are full of wonderful geometric, floral ornaments and some animal figures with a meaning behind each pattern.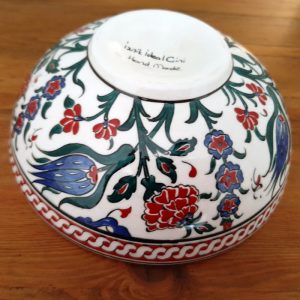 Many of the plates and bowls in the Snug and Cosy collection show different motifs. The tulip is the symbol of the ruling Ottoman dynasty and Turkish Sultans adored tulips. In fact, in the history of the Ottoman Empire, the beginning of the 17th century was known as the Age of Tulips. They were revered as a sacred flower and symbolised harmony and beauty. They are still a favourite motif to be used in Turkey on the walls of mosques, on fabrics, carpets, clothing, ceramic tableware and jewellery. Jewellery is loved by most Turkish women and is traditionally given as a gift. Gold jewellery is usually given to Turkish women as a wedding gift and after childbirth. Jewellery with tulips and the evil eye design has symbolic meanings for protection and love. Traditional semi-precious stone jewellery is worn because of their healing properties. The necklaces in the Snug and Cosy range are steeped in these traditions and are designed and handmade by a local artist in Turkey. Some of the necklaces and earrings are totally unique and may not be reproduced again.
Another floral motif prolifically used on Turkish tableware is the carnation – a symbol of eternal love, courage and rebelliousness. Both flowers – tulips and carnations – can be seen on plates, bowls and cushion covers in the Snug and Cosy Homeshopping range. Yuksel explained:
"Each time you see these flowers now on a plate or a bowl or on a cushion cover, you will remember what they stand for and that they are both symbolic of strong emotions. If you have been to Turkey and have loved visiting my country, then you really should have a treasured souvenir with which to remember your visit. Having some of my Turkish ceramics, textiles or accessories in your home will leave a lasting impression of a welcoming home-from-home, which is Turkey. In the tableware range, I have also chosen some luxury fine bone china cups with Ottoman-inspired floral patterns. I am sure you will love these products as much as I do."
The Grand Bazaar in Istanbul, Turkey may be your first venue of choice to buy ceramics and accessories, but there is very little chance of anyone being able to visit this vast venue at the moment. So, let Snug and Cosy Homeshopping online take the hard work out of choosing which design, which colour and the best quality. Yuksel commented:
"If you are looking for authentic Turkish products with historical tulip or carnation designs and you can't travel to Turkey for them, then my advice is to buy what you love at a price you feel you can afford and start collecting Turkish products to covet from Snug and Cosy Homeshopping."
---
Article written by
Chris Roberts MBE PR