Two brothers are set to revolutionise the sweet treats market, launching a new cookie brand that was inspired by the indulgent biscuits they enjoyed as schoolboys.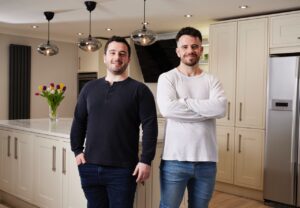 Alex and Sean Brassill have launched JNckBakery, targeting the sweet snacking and fresh bakery markets with the launch of their range of delicious cookies, which have 90% less sugar, 50% less saturated fat, 3x protein and 5x fibre compared to existing products*.
Almost two years of research and 1200 tests went into the development of the cookies, led by Alex, a biomedical scientist. Alex was head of the Nutritional Division at The Hut Group before setting up Jnck with his brother, who has spent the last five years at Javelin Group (part of Accenture) as a Strategy Manager, working with high profile companies such as Warner Bros., Sainsbury's and Holland & Barrett.
Rated non-high fat, salt and sugar, HFSS the range does not include any palm oil, and is sold in fully recyclable packaging. It has already been recognised for its outstanding taste and texture; receiving Gold Award for Product Innovation at LUNCH!, earning the Food and Drink Award at the Entrepreneur Show, and awarded 2x finalist places in the World Food Innovation Awards last week in the Low or No and Chilled / Frozen product categories.
Jnck Bakery successfully completed a seed funding round earlier this year, with an investor group including an international sportsperson, previous Managing Director from Accenture and Strategic Partnerships Director at Krispy Kreme.
Says Sean: "Fundraising isn't the easiest activity in the world, but it's very rewarding when it's done successfully. It certainly takes up a lot of time and energy, but it's brilliant to share your belief and vision with others, especially when it's reciprocated. It was probably made easier by the fact we're an innovative, purpose-led brand looking to make a difference combined with the macro consumer trend towards healthier eating, which is being supported by both government and industry."
Comments Alex: "The growth of the protein snacks market shows there is a demand for a much healthier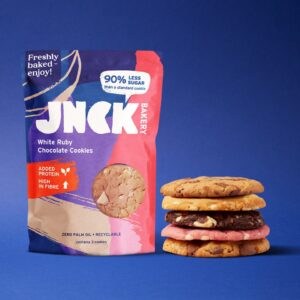 approach to grab and go food, but we felt strongly that we could create products that still tasted, felt and looked like indulgent treats, as opposed to high-protein gym products. Our cutting-edge sweetness modulation means Jnck Bakery products deliver without all the sugar and fat: no mean feat, as these elements bring so much more than just taste and texture. We have used a range of techniques to develop the desired high quality, sweet, chewy, crunchy, cookie. And by tripling the protein and adding prebiotic fibre, we have enhanced the nutrition and looked after gut health. The results have to be tasted to be believed, and we are delighted to bring these products to market."
Jnck has gained a listing with food delivery company Gopuff and Alex and Sean have secured talks with a number of retailers and foodservice operators as they look to pursue their vision of making the UK – and the world – a healthier and happier place. "Now that we are launched with attention from the media and potential customers, we are really getting going," says Sean. In our first week with Gopuff, we outsold some of the leading bakery brands, proving our point that there is a gap in the market. Apparently, 86% of people now look for healthy snacks all of the time, which is a phenomenal change from where it would have been 10 years ago. The barrier is being tested by the unhealthy choices on offer.
"We believe the food industry has to take more accountability for improving the nutrition of the nation – but that doesn't mean people should be denied tasty treats. Market-leaders in other sectors such as crisps and doughnuts are all making great strides in healthier eating – but the cookies sector has remained relatively stagnant. Jnck Bakery will change this: we believe we can remove 800 tonnes of sugar from the UK supply chain over the next three years – and that's just the start!"
* Tested 100g of Jnck cookies with 100g of supermarket and foodservice cookies currently on sale in the UK