Empowerment and business coach Taz Thornton has united a team of LGBTQIA entrepreneurs women for a series of weekly live talk shows called 'Proud Women' throughout June. 
These 'Loose Women' style broadcasts will air via the social media platforms LinkedIn, Facebook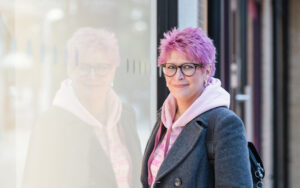 and YouTube and will touch on topics related to Pride Month including how business and individuals can truly be allies and support equality and equity.
There will be four panellists taking part:
Katie Allen: a specialist diversity, equity and inclusion consultant and coach from Peterborough. Katie is on a mission to help aspiring allies activate their awareness. Katie represents the Asexual community and wants to bring awareness and raise support for them. (good to add where they are based)
Katie Brown who is a mixed-race sales professional in the technology sector based in Wakefield. Katie was recently appointed to the Board of Trustees for African Rainbow Family. For a long time Katie hid her sexuality as she was worried that it would damage her career but now she encourages others to embrace their LGBTQ+ identity as a professional superpower.
The third member of the panel is Leicester-based Katie Neeves FRSA who calls herself the 'gobby trans woman' who has won multiple awards including the British Diversity Awards "Hero of the Year 2023". Katie set up Cool2BTrans to support and inspire other trans people and educate others about trans people. She does this by using humour to deliver trans awareness training and inspirational talks. 
The fourth member of the panel is Taz herself who is the 'pinked-haired powerhouse', in a loving relationship of twenty-five years with her wife Asha – the couple are celebrating 25 years together this year, married for nine years. 
Taz, who lives in Lincolnshire, is an author, inspirational speaker and an award-winning coach and trainer. She has spoken on stage, TV and radio on topic ranging from LGBTQ awareness and education, social media, confidence, triumph over adversity and domestic abuse.
"I'm really looking forward to delving into the conversation with these awesome women. I'm sure we'll be touching on all kinds of LGBTQIA related topics; I know we're all keen to address the growing trans hostility and media representation, particularly in light of a recent Channel 4 documentary, as well as mental health in the community. 
"We'll want to address some of the nonsense stereotypes that seem to perpetuate. I suspect we'll also talk about the importance of Pride events and why they're still needed, as well as diversity, equity and equality for all."
Proud Women starts on Tuesday, June 6 at 6pm. Future shows are June 16th at 4.30pm, June 20th at 6pm and June 27th at 4.30pm. They can be accessed here: