Author: Chris Donnelly, Co-Founder of Lottie and Forbes 30 under 30
As the number of small businesses across the UK continues to rise, more employees than ever before are becoming aware of the benefits of working for a startup. Online searches for 'working at a startup' have surged by 137% over the last 12 months.
From a fast-paced environment to lots of opportunities for learning and growth, there's many benefits to working at a startup business.
New research by Lottie (a later living marketplace) has found more employees than ever before are turning to Google to understand the key qualities and skills valued by startups over the last 12 months:
150% increase in online searches for 'digital skills job'
100% increases in online searches for 'small business time management'
33% increase in online searches for 'good problem solving skills'
33% increase in online searches for 'effective communication skills in the workplace'
Co-Founder of Lottie, Chris Donnelly shares: "Startups are always on the lookout to hire talented candidates with a varied skill set. Enthusiasm and a natural drive to work hard are key to succeeding in a startup environment.
For the most part years of experience is not always the only thing startup hiring managers look for. An employee that shows an eagerness to learn, a varied skill set and believes in the company's purpose and goals are often a great fit for a startup hire – and the key to long term success.
 At Lottie, our team are at the heart of everything we do. Our aim is to connect families and their loved ones to the best care homes and at a fair price. Building a team of people that also share this vision has helped Lottie to grow from strength to strength over the last year."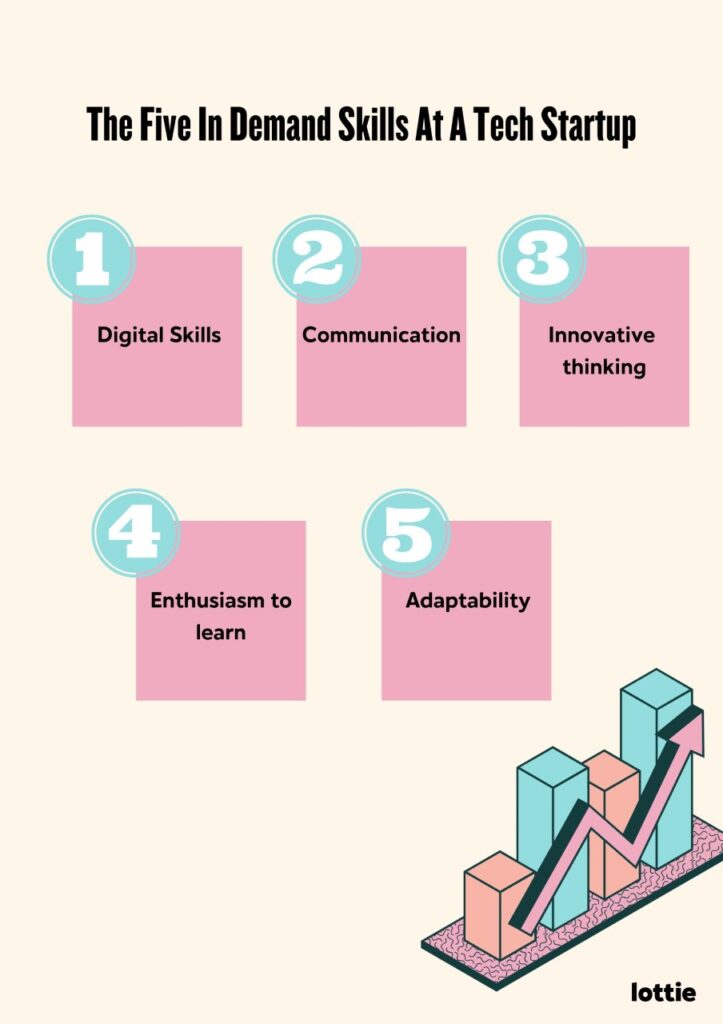 Here are the 5 sought-after skills by a Startup in 2022, according to Lottie's Chris Donnelly:
Digital Skills
Being knowledgeable of using technology to communicate, share work projects and store information safely is key to working in a startup. For example, being able to join online video calls and stay connected using platforms such as Slack and Zoom.
62% of startups in the UK are tech based and this is only expected to increase in the future years. Digital literacy in startups will grow in demand as technology develops.
Communication
Communication is key to great teamwork. Effective communication within a startup is crucial to hitting targets and goals, as well as building relationships with clients, customers, and suppliers.
As startups are often fast-paced – things may change very quickly on a day-to-day basis, so it's important you're able to share your idea and thoughts with colleagues. As well as keep them updated on any key business notices.
The communication framework set in place as a startup will grow with the business. Effective communication encourages a positive work environment and engaged employees.
Innovative thinking
Innovative thinking is a highly valued skill at startups. From being able to think outside the box to solve problems and helping to create new ways of thinking to drive market change – innovation is in high demand at startups.
Innovative thinking and creativity doesn't always have to be a big idea.  Something as simple as suggesting a new way to organise an internal business process can streamline a startups business model.
Enthusiasm to learn
There's a new lesson to learn each day when working at a startup. Take the time out of your day to reflect on your achievements, ambitions and any new experiences or challenges you can learn from.
Small businesses offer the opportunity to develop and learn a wide range of new skills. If there's a skill area you'd like to develop or progress in, share this with your team or manager and they'll be able to support you to achieve this.
Employees that show an enthusiasm to learn and drive to succeed and develop – go hand in hand with growing and expanding a startup company.
Adaptability
No one day is the same at a startup business, so it's crucial you're able to adapt quickly.
Being able to manage your time effectively to complete your daily tasks, stay on top of industry and market trends, and your ability to respond quickly to change are all examples of adaptability in a startup.
Being quick to adapt in a startup can also help to develop other skills highly valued in small businesses such as communication and innovation.