Dan Stanley, the award winning ex-Army commando and founder of the organisation BetterMen, has published his first book 'Rethinking Masculinity – a modern man's guide to succeeding in life'. (available October 3).
The 38-year-old who lives in South Wales created BetterMen in 2018 after experiencing an early mid-life crisis following the birth of his first child – a little girl. He felt lost in life, unsure of who he was and how he wanted to live his life. 
"I spent my life trying to prove my worth through success – trying to be the best, being an over-achiever. I did that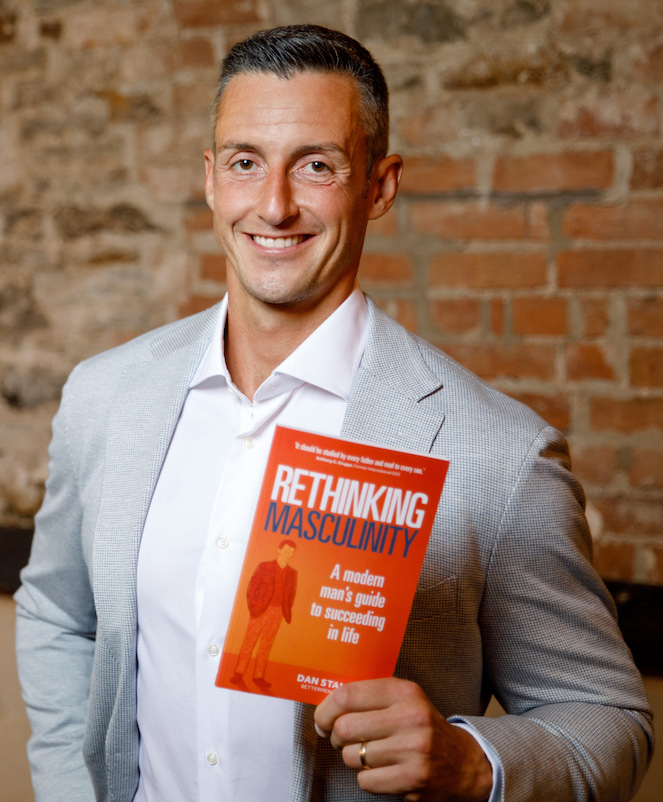 in the military, in sport, then in business and yet suddenly, I was anxious, unfulfilled, and struggling with my mental health. I had created a superficially successful past but found myself with no clear direction for my future.  That period of my life nearly cost me my marriage." 
Dan made it his personal mission to change the trajectory of his life, rebuild his marriage and become better.  He took a career break of eight months. In that space he came to the sobering conclusion that he wasn't the only high achieving man to lose his way.  He trained as an NLP coach and also as a certified high performance coach with one of the world's leading coaches Brendon Burchard of The High Performance Institute – one of only a handful in the UK. 
"Through this process I began to understand how to be better – to show up better in my own life, as a husband, as a father and as a friend and colleague. I turned my midlife crisis into a midlife transformation. Along the way, I realised that many men, even those who are outwardly very successful, may be feeling lonely, unhappy, may be struggling with their mental health and actually what most men want to be is fulfilled, happier and connected with their family and friends."
Dan set up his professional coaching business for men – BetterMen – and alongside it he created Men & Mountains, a monthly hill walking community for likeminded, middle aged, busy professional men from all across the UK. In August the members all took part in a trek through the Alps, their first overseas 'expedition' walk.
Since creating his business, Dan has worked with successful business owners including multi-millionaires, elite athletes and even celebrities. 
"I feel privileged to be trusted to support men who feel their lives are off track. To help them create a better work life balance, improve their relationship, lead themselves, their teams and business with more intention and impact. Having built my business and worked with 100s of men, I felt the time was right to put pen to paper and write a book to challenge the dysfunctional state of modern day masculinity and help men access the answers I've uncovered.''
The book explores Dan's belief that the societal, parental and educational conditioning young, adolescent boys experience leads toward 'the myth of masculinity' – that professional success equals personal happiness. It doesn't.
Instead Dan suggests it leads to workaholism, loneliness, poor mental health, midlife crisis and divorce – and often a mixture of these outcomes. He believes it's no accident that three out of four people who take their own lives are male.
"I hope my book helps men – and the women who support men – to rethink and redefine the standards of modern day masculine success so men can own their feelings, tune into their intuition and step away from old stereotypes of what it is to be 'male'."
His book 'Rethinking Masculinity – A modern man's guide to succeeding in life', published by Rethink, is available from October 3. It can be found here: