Do you worry that your service or product isn't good enough? Don't worry it's more common than you think, you are not alone. This is something I see a lot with start-up businesses and entrepreneurs. It even has a name..
Impostor Syndrome
"Impostor syndrome is a term referring to high-achieving individuals marked by an inability to internalize their accomplishments and a persistent fear of being exposed as a "fraud". Despite external evidence of their competence, those exhibiting the syndrome remain convinced that they are frauds and do not deserve the success they have achieved. Proof of success is dismissed as luck, timing, or as a result of deceiving others into thinking they are more intelligent and competent than they believe themselves to be. Some studies suggest that impostor syndrome is particularly common among high-achieving women."
How do you know you've got Impostor Syndrome?
Here are some of the signs..
Self-Doubt
Comparing yourself to others
Fear and Anxiety
Hard to accept compliments, deep down you feel you are not worthy
Inability to enjoy success as you feel like it's a fluke
Holding yourself back from achieving
Does that sound like you?
Let me tell you a secret, I suffered from impostor syndrome myself when I started my business.
I was brought up in a working class family in Clydebank, Scotland. I thought only tradesmen and the "well to do" had their own businesses. I was neither. I always thought of myself as a hardworking employee. Working for myself had never really crossed my mind.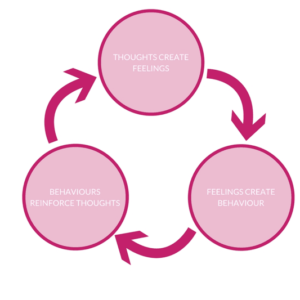 It wasn't until 2011, when I was working for a major blue chip media company, that being my own boss even hit my radar. After 15 years working for the company selling advertising, the company had lost its foothold. The market had shifted from print to digital media, and I no longer believed in the products I sold. I wanted to leave the company.
I wanted to start my own business sharing my knowledge and experience of doing what I do best – sales.
I knew I could sell. I'd been a top performer for some of the UK's best known companies, sometimes achieving 3000% of target. I'd mentored other sales people, but I'd never been a sales trainer, or run my own business. Deep down, I knew I could achieve anything I wanted to achieve, but what if someone caught me out. What if they could tell I wasn't a sales trainer.  I feared that other people were probably better than me. I feared that I was an impostor!!
To overcome Impostor Syndrome you have to BELIEVE in yourself and your business. If you don't believe in what you're selling, your customers won't believe it either and they won't buy. But belief doesn't come overnight. You won't wake up tomorrow after reading this blog full of belief. Nope, you're going to have to work your way towards it and overcome that feeling.

So how did I overcome the fear and beat impostor syndrome?
Step 1 – I did my research
I spent 15 years selling advertising to small businesses. During the tough times, when the phone stopping ringing, they didn't know how to proactively sell.
From my experience I had a good idea that small businesses had a need, a problem, that I could help them solve.
But it was just an idea.
So I did a survey with my old clients to find out more and check that I was on the right track. The survey confirmed there was a need for sales training in small business and it helped me learn more about my potential market.
What research have you done to confirm the need for your product or service?
Step 2 – I looked for my unique selling point
Mine was based on my experience of hospitality management and sales. It gave me my vision to teach businesses that
"When it's delivered correctly, sales and customer service is exactly the same thing."
If you don't have a vision, I suggest you get one.
It will give you a strong sense of purpose which can help to overcome impostor syndrome.
Step 3 – I looked at what the competition was doing
This is one of the most important steps and one of the things that really holds people back. You find yourself asking why would anyone choose me when they could go to all these other companies.
Everyone has competition.
Look at Coca Cola, they are the market leader, but does it stop Pepsi, and other soft drinks?
No of course it doesn't. Competition is a good sign – it means there is a market for what you do.
It's good for consumers too. It keeps businesses on their toes, being innovative and creative.
The challenge is to figure out what you do differently to your competitors? Knowing what makes you different will help ask better questions to potential clients.
It helps them understand you're the one for them.
Step 4 – Setting your price
This was a tricky area for me.
Service industry costing is a bit like buying a house, it's worth what someone is prepared to pay.
The cost of a sale revolves around how much you value your time. If you don't value your time you'll under charge.
Products are easier to calculate as you can do it on margins – just make sure you include all of the costs.
For me, I asked other consultants in similar fields what they charged and based it on that.
After a little more research, I realised I was charging less than other sales trainers, so I felt more comfortable about increasing my prices.
If you're feeling anxious about charging more for your time, ask yourself..
"what value am I delivering to my client?"
And remember you can always negotiate down, but never up, so start higher than you want.
Step 5 – Don't wait for perfection
You need to be happy with your product or service before you can sell it, but if you wait for it to be perfect you'll be waiting forever.
It's easy to find excuses why you're not ready to start selling.
For me I wanted a case study for my website.
That was my crutch.
Until I had it, I didn't feel I could sell my services. I soon got over this when I met a man at an event who wanted me to train his recruitment sales team.
The next blocker I came up with was that I had no slides or format to train them with!
Even now I still feel my slides could be better, but it hasn't held me back from building a successful company.
I know the strength in my product is me, not what's on the slides.
What are your strengths? By using them efficiently it will also help you believe your service is good enough.
Step 6 – Build a strong network
Being an entrepreneur can be very lonely at times.
It comes with extreme highs, but also difficult lows.
I'd be lying if I said it never crossed my mind to jack it all in and get a "proper job".
For me even from day one, I had a business coach to help keep me on track.
She listened to me and helped me remember the reasons I started the company in the first place, and why small businesses need me to help them to survive.
It would have been down right rude of me to leave them in their time of need!
Why do your customers need you? Always remember this, it will see you through your darkest hour.
I also have a strong group of business friends who I frequently spend time with, chatting and laughing, happiness is contagious, and it's a true fact "happy people sell".
Step 7 – Recruit the right people
Surrounding yourself with the wrong people makes you doubt yourself.
That makes you doubt the service you provide, which affects your confidence when it comes to selling.
Since I expanded my team in 2014, I've been blessed with a great team who have helped me take the company from strength to strength.
Having the right team around you makes you more productive and brings in fresh ideas that can improve the services you offer.
Expanding my team has made it possible to create an online version of the Easy Peasy Sales course. And now we're working on a monthly membership plan so we can help people even more.
What are your plans to make your product or service better?
Step 8 – Get off the hamster wheel!
Make time to work on the business, not just in the business .
I see so many business owners spending all their time doing the short-term work that pays the money.
They can't find the time to make their product or service better.
If you want to feel more confident about what you're selling, you need to make time to improve it.
Often this is down to poor time management, they are always too busy.
We use a tool called Trello, which helps us share and organise tasks in flexible ways. This helps us capture ideas, keep things on track and frees us up and allows us time to plan our next innovative move.
How do you manage your time?
Step 9 – Share what your customers think
Testimonial are a very powerful way to reassure potential customers that you're a good choice.
Make sure you read and digest the positive feedback.
They are saying wonderful things about YOU, not someone else.
You are not an impostor in their eyes.
You are the white knight who has entered their world to solve their problem.
Only yesterday I had feedback from a client who is now being stocked in Boots, who says without my help it would never have happened.
This gives me oomph to continue doing what I do, because it has a great impact on other people's businesses.
If you don't have testimonials from your clients, I highly recommend you get them in both video and written format.
All you have to do is ask.
Step 10 – Set Goals
Goal are ultra-important in a small business.
They are the things which drive you on to overcome your fears.
Without them you will flounder, and lose focus.
Without focus you will doubt yourself, and feel like other people are better than you.
The more goals you achieve the more confidence you will gain.
You'll soon start to believe that you are not an impostor you are the "real deal".
Goals are personal and can take the shape of material or non-material things.
They should also be short, medium and long.
For me a short-term, material goal was to get a status car, I now drive a white shiny Jaguar XF.
A non-material goal was going to 10 Downing Street, (see photo).
Long term, I have some super duper goals which I'll share when I hit them.
What are your goals?
So what are you going to do differently?
If you follow my tips, you'll find yourself doing things differently. You'll overcome impostor syndrome.
If you dig deep you fill find the confidence you need to BELIEVE in yourself and your product or service.
I often talk on my Easy Peasy Sales Course about the cold hard fact that..
"if you don't sell you don't have a business"
Confidence is key to sales, but it only comes when you understand behaviours, know the sales process, and have a sales strategy.
I look forward to hearing from you soon.
A heartfelt thank you for reading my blog and forgiving my dyslexic ways.
Alison is The Entrepreneur's Godmother & one of the UK's top business advisers). Alison is mentor to some of the UK's biggest entrepreneur's (she has some very famous clients). Alison Edgar is an outgoing, highly organised, determined business woman with a passion for people and helping businesses grow. Regularly featured in The Sunday Times, The Telegraph and The Mail on Sunday and the Guardian, Alison is no stranger to national press coverage.