Payroll experts, Staffology have investigated the statistics of the coronavirus pandemic, discovering how the vaccine saved the UK's job market, and how various lockdowns and restrictions impacted the number of coronavirus cases and people on payroll.
Despite a monthly increase of 1.8 million cases of coronavirus in December '21 compared to November '21, payroll increased by 106,000
Since March 2021, payroll has consistently grown by at least 66,000
During 2020, cases of coronavirus had a direct and negative impact on payroll
The first national lockdown from March to the end of May controlled the virus regarding rates of infection, however the economic impact saw turbulence in payroll. Despite the Coronavirus Job Retention Scheme (CJRS), or furlough as it was more commonly known, April 2020 saw the largest amount of month-on-month job losses in the entire pandemic, with 408,000 less people enrolled on payroll. May saw another 92,000 fewer people on payroll, meaning that in a two month period, half a million people had potentially lost their jobs.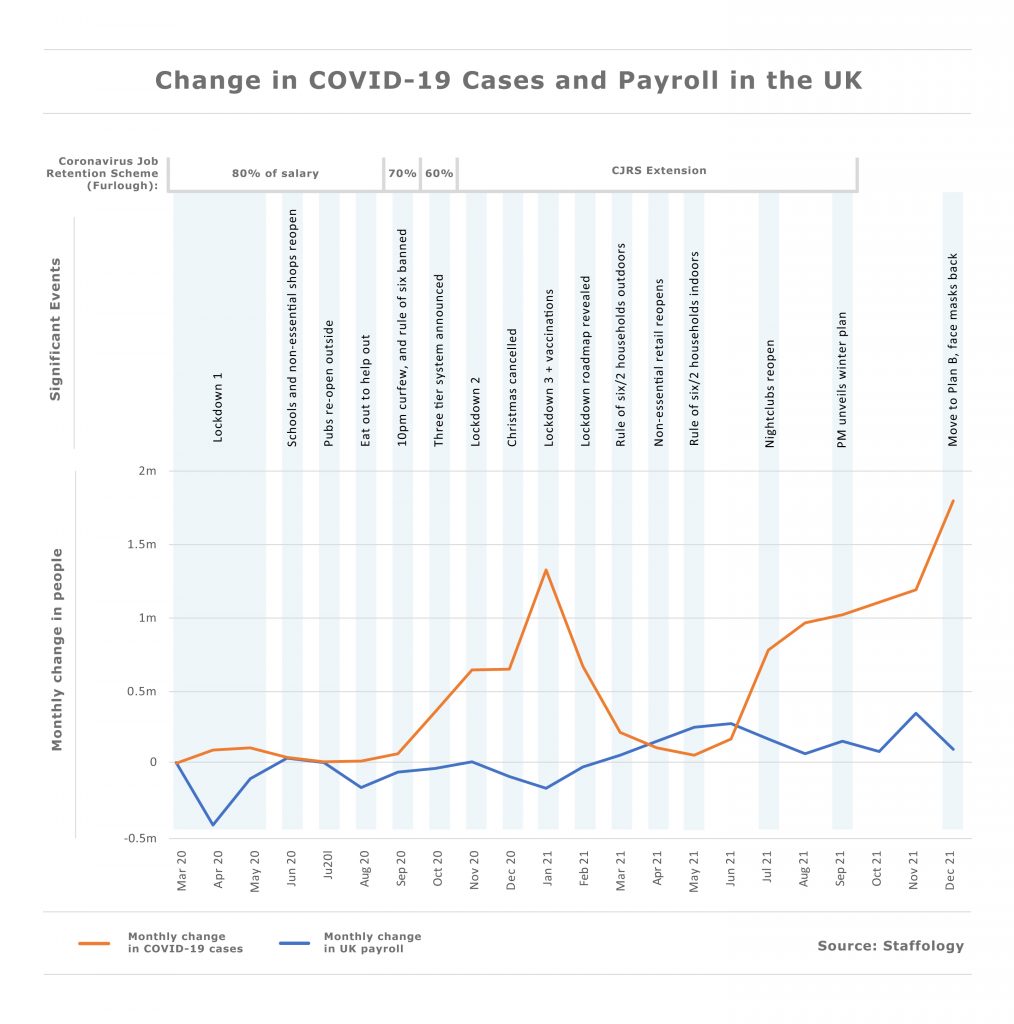 As the pandemic continued, cases of coronavirus were still being managed relatively well with the change in monthly figures never exceeding +100,000, and May to July seeing a constant decline in rates. As furlough, or the coronavirus job retention scheme (CJRS), wound down, payroll numbers took another large hit of -156,000. The following month then saw a change of +115,500 coronavirus cases (likely due to the 'eat out to help out' scheme), and then +422,000 in October, supported by the amount of people on payroll reducing each month, which made August to October the most economically deadly months at that point in the pandemic. It was then, when cases of coronavirus peaked, payroll numbers spiralled.
The government's second lockdown in November then began to control the virus again and saw the first positive change in payroll for three months, along with a relatively small increase in covid rates of 27,000 cases. When the lockdown was ended after just a month though, cases skyrocketed by 392,000 and payroll saw a decrease of 80,500.
2021 saw the support of the vaccine, which was being rapidly rolled out across the nation, and as a result February saw a reduction of 861,000 cases of coronavirus. As a result of less restrictions, employers were able to hire without so many limitations, and from March 2021, increases in payroll would not drop below +66,800 for the entire year. Coronavirus cases were also levelling out.
Before the vaccine, cases of coronavirus had a much more direct impact on payroll, making 2020 a difficult year for many. Proof of this is that December 2021 had 1.8 million more cases of coronavirus than November, yet 106,000 more people were registered on payroll. The same time in December 2020 saw an increase of 392,000 cases and 80,500 less people on payroll. Coronavirus has had a very direct impact on payroll, however the vaccine is the true saviour of the UK's job market, and restored faith in employers.