Running a restaurant is about offering the best possible dining experience for your customers – whether that be quality service, an enticing atmosphere, or even just great food. It can be a challenge regardless of size. However, it's especially challenging if you're a small or new business. If you're just starting out or trying to grow, you want to spend time focusing on the parts of your restaurant that make it special to you – not getting bogged down in financial admin and managing expenses. With an Equals Money account, you can get real time visibility over spending and budgets and let members of your team take spending into their own hands so you get more time doing what's most important to you.
Delegate to your employees
The restaurant industry is fast-paced with a lot of moving parts. When it comes to spending, there's a lot to consider. Not only do you have to manage regular expenses for maintenance that include everything from furniture to keeping the lights on, you also have to manage ad-hoc or one-off purchases wherever necessary, such as purchasing ingredients on the fly when you've run out, services like window cleaning, or even a staff night out.
A good way to help manage spending is letting your employees take some of the burden of these expenses into their own hands. However, if you start delegating responsibilities, you'll have a wide range of employees to keep track of. From waiters to cooks to management and everything in between, it can be difficult to keep track of employees, let alone their spending. It's not the most effective use of your time to use of cash for these expenses. Giving out cash gives any business, hospitality or not, a lack of security and visibility on spending habits and decentralises its ability to monitor spend. You need a way to manage expenses that moves away from cash and gives you full visibility on spending habits whilst still letting your team take some of the burden of managing expenses.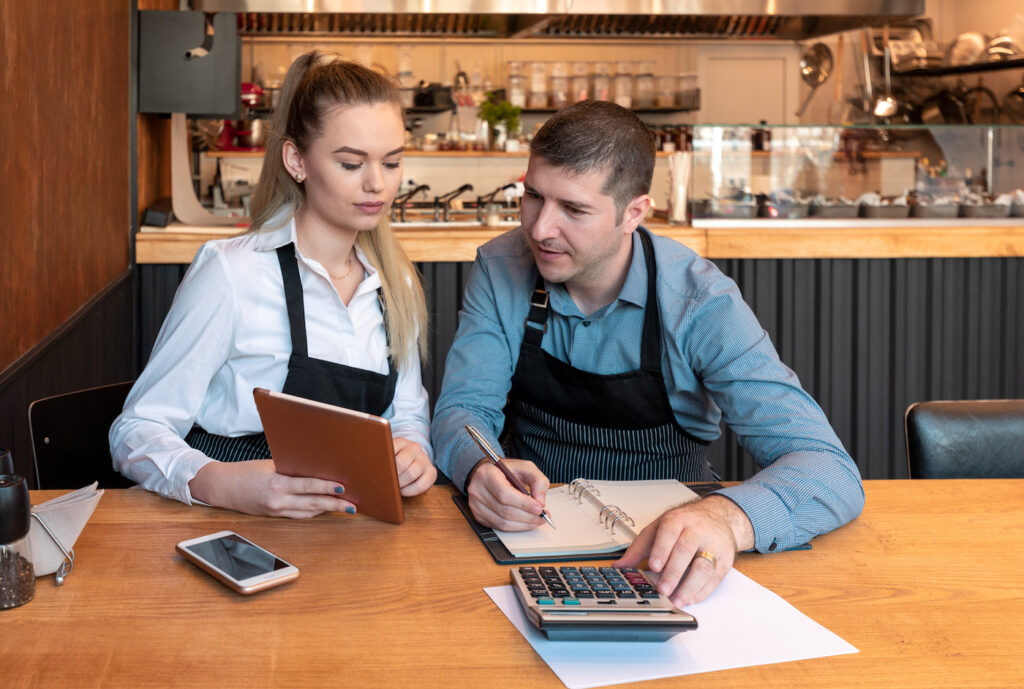 With Equals Money, you can get prepaid cards for your whole team to spend with and an easy to use online platform to monitor spending in real time. Put responsibility in the hands of your Chef or General Manager to take care of things without needing to verify or ask your permission. Give your team more autonomy, whether it's to cover an unexpected expense or just to buy more food for the restaurant. Additionally, employees can check the platform themselves and request more money so you don't have to waste time monitoring finances 24/7. Your team can also pause their cards if they misplace them and securely check their PIN wherever they are, which further removes the need for micro-management from you. Track spending across your whole business and respond to top-up requests all through the Equals Money platform and mobile app. Employees love the responsibility, and you'll love the ability to delegate – it's a win-win.
Build a culture of trust in your restaurant
In addition to the added security and convenience, Equals Money cards also help to build a culture of trust at your restaurant. Going cashless keeps everything transparent amongst the team, and Equals Money enables this. Not only can you see transactions, but team members can upload pictures of receipts and annotate them to save you time trying to back up transactions. Additionally, because employees can make purchases directly with their prepaid cards, you don't have to worry about the hassle of reimbursements. Matching values on a spreadsheet to reconcile paper receipts is time-consuming and inefficient. Not only is this a waste of time, but it increases the risk of losing money over unaccounted for spending or mismatched expenses. You can say goodbye to rounding losses – everything is clear, transparent, and accounted for. Together, this makes reconciliation that much easier and enables you to maintain a culture of trust amongst your team.
We're here no matter where you're going
You might be a small restaurant now, but maybe one day, you'd love to be a franchise. Equals Money will be there for you as you continue to grow. It can be a headache to manage expense with multiple store locations and multiple employees. Additionally, with a growing business of any kind that has a range of employees and locations, transactions need to happen quickly and efficiently. With Equals Money cards for your team, you can get funds to them as soon as they need it. Also, we don't perform credit checks for individual employees, which means we can issue you cards quickly and send them out in three to five business days.
In addition to offering tailored solutions for expense management, you can simplify payroll and automatically process faster, secure batch payments to send domestic payroll. You'll also have access to our friendly, UK-based customer service team and real human contact with your own personal Account Manager, who's your point of contact if you ever have any questions, comments, or concerns about your Equals Money account.
The hospitality industry has faced a number of challenges coming out of the pandemic as an industry hit especially hard by lockdowns and inconsistent closings and re-openings. These days, it's more important than ever to ensure your business is saving time and money where it can. Using Equals Money can help your business face the challenges in the hospitality industry so you can spend more time maintaining and growing your restaurant.
Equals Money cards and our online platform allow you to take your restaurant cashless and stay on top of company expenses in real-time. Keep track of purchases, respond to top-up requests, and empower your team to upload and annotate their own receipts for easy reconciliation. We're here to help make your finances run smoothly, so you have the freedom to focus on what's really important: your business.
Business expenses made simple, Find out more contact Equals Money