Food entrepreneur Luke Craven launched his first Cajun cricket spice under his new brand Bijimini earlier this week, a nutritious and eco-friendly spice blend that promises to enrich the taste of food while helping to sustain the planet.
Made from a blend of Cajun spices and a powder made from crickets, the product is the first offering from BiJimini Spices, a company Luke founded in January 2021 as he began the process of marketing testing. The first product went on sale this week.
The versatile spice can be added when cooking a favourite meal, baking a pie, creating a stir fry or adding to a BBQ, as you would any other Cajun spice blend.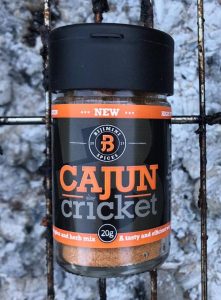 "This product will appeal to customers who, like me, believe in helping the environment by eating sustainably sourced food products," said Luke.
For many, eating insects might conjure images of celebrities in an Australian jungle. However, there is a real and pressing need to find alternative sources of food to sustain the world's ever-increasing population, and crickets are a viable, sustainable, and healthy option given food shortages and environmental concerns.
The United Nations had highlighted this urgency back in 2013 producing a report that recommended eating insects as a 'viable option for alleviating food insecurity'.
"I am on a mission to find a solution to the global food shortage, rising CO2 emissions, and the need to provide a sustainable food source for an ever-increasing world population," stated Luke. "I have come up with a product to introduce people to the idea of eating crickets in an easy, creative and exciting way."
While not yet a popular choice in the Western world, over two billion people around the world – mostly in Africa, Asia and South America – already eat crickets, and other insects.
Luke first became aware of global food shortages and ways to combat them while studying for an International Business Food and Agri-Business degree at The Royal Agricultural University in 2019. He was inspired to co-found his first business venture manufacturing a product called PowerFlour, a high protein mix of organic flours and cricket powder. Although the venture ended, Luke had seen the potential for change: socially, commercially, and environmentally.
Why crickets?
They are an excellent source of complete protein – they contain 60% protein by weight, which means, if you eat 100 grams of crickets, 60 grams is pure protein; and they contain all nine amino acids – and are bursting with vitamins and minerals. As the world wakes up to climate change and the impact of food production has on the environment, crickets make sense: they produce 0.1% of the emission of cows, need only 20% of the water a cow needs to produce the same amount of protein, and can be farmed in almost any climate or environment.
To find out more about BiJimini Spices' Cajun Cricket, visit: http://bijiminispices.com