Leading free-from food brand, Creative Nature, has been named as a Gold Medal Winner in the FreeFrom Food Awards 2021.
Creative Nature was awarded a Gold Medal in the Innovation category for their Cheeky Choc HazelNOT Gnawbles, which is a completely nut safe alternative to hazelnut chocolate. Julianne Ponan, CEO of Creative Nature, heard that they were a top medal winner at the FreeFrom Food Awards Party that took place virtually on May 27th.
She explained:
"At Creative Nature, we believe products that claim to be healthy should also be tasty. It's the same for free-from products. Just because food doesn't contain gluten, dairy, nuts or sweeteners, it doesn't mean it has to be free from flavour. Our winning Gnawbles are magic! They taste like Ferrero Rocher, but have absolutely no nuts and none of the top 14 allergens!"
The Gold Medal winning sweet treat, Gnawbles, had already been shortlisted in two other Award categories for: labelling and a top 14 allergen-free recipe. The judges of the Innovation category, sponsored by Nairn's Oatcakes, were looking for new concepts, innovative use of ingredients or manufacturing techniques, unusual recipes and new ways to deliver health and flavour. They said that Creative Nature's Cheeky Choc HazelNOT Gnawbles were "really clever products both in form and flavour."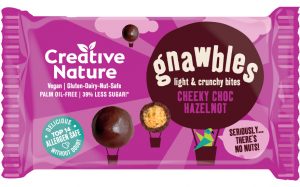 The FreeFrom Food Awards, which have been held since 2008 and this year attracted more than 600 entries over the course of four weeks, are the UK's only awards for free-from food and drink. The awards help to celebrate and raise awareness of free-from products – as well as awareness around allergies and food intolerance. The food and drinks that win an award are seen as benchmarks in the business; and small producers and supermarkets compete on a level playing field for one of the coveted awards.
Julianne has anaphylaxis and lives with multiple food allergies including all nuts, sesame, chickpeas and many skincare products and perfumes. She founded Creative Nature when she was just 22 and has turned it into a profitable free-from food brand to cater for people like her.
She said:
"I'm so proud of where I've come with such a small team – it was just me and my fiancé for the first three years!"
With her small team, Julianne started making her own healthy snacks out of frustration at the lack of nut-free products on the market that weren't packed with additives and which would work for people living with allergies and intolerance.
Taking the brand from strength to strength, Creative Nature is now available in top supermarkets such as Sainsbury's, Ocado, Co-Op and Asda; High Street retailers like TK Max and in many more independent high-end health-conscious stores such as The Natural Kitchen and Sourced Market.
Creative Nature has already been an award winner with the company having won numerous awards for both its products and the performance of its team. CEO Julianne Ponan has also been named as one of the Forbes 30 Under 30 to watch.
For more information, visit: https://creativenaturesuperfoods.co.uk