Welcome to our exclusive interview with Seb Roberts, the visionary behind Gophr, the renowned same-day delivery company. With prestigious clients like Screwfix, Co-op, Net-a-porter, Dior, and Selfridges, Gophr has established itself as a key player in the industry.
Seb's mission is clear: to position Gophr as the leading same-day delivery business in the UK, leveraging innovative technology and revolutionising the crucial "last mile" of delivery.
Seb's journey began in the music and media industries, where he experienced firsthand the frustrations of unreliable courier services. Fueled by the desire to create a better alternative, Seb embarked on the challenge of transforming a fundamentally broken system. By developing a digital platform approach, Gophr has not only driven innovation but also elevated the delivery experience for clients, customers, and couriers alike.
Recognised for their fast growth and market impact, Gophr has garnered accolades such as inclusion in Deloitte's UK Technology Fast 50 for two consecutive years. With a remarkable £4 million Series A investment, an extensive network covering 46 UK cities, and over 4 million successful same-day deliveries for renowned brands, Gophr's success speaks volumes about their dedication to excellence.
Join us as we delve into the inspiring story and future aspirations of Seb Roberts and Gophr:
How did you start your business?
By accident and born out of frustration (sounds like the title of an interesting autobiography). I was working at a creative agency when I attended a team building course run by an accelerator programme. As part of the course, one of the instructors asked me to come up with a start-up idea, so I thought of Gophr because I knew first hand how difficult it was to find good reliable couriers. I pitched him the idea and it just went from there.
How do you evaluate the past ups/downs of your business?
I journal for about 20 mins at the start of each day as it gives me a chance to do some uninterrupted reflection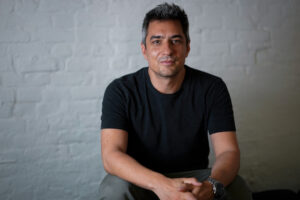 and planning for the day, weeks and months ahead. Everything in business is a lesson, regardless of whether the outcome is good or bad, so it's important to pause, evaluate and learn from the good, the bad and the ugly times.
What has been the greatest challenge?
I'd have to say it was the pandemic. While the delivery market did well  overall during COVID, we had to change our business model completely. Originally Gophr serviced the SME market, but when everything hit the fan, that sector dried up overnight. At the same time demand from larger enterprise clients increased, so we needed to adapt and scale nationwide – fast.
The number of variables in the delivery space is mind-blowing. Different industry sectors have different requirements, and couriers have different types of work they like to do, different vehicles and so on. For example, when you deliver prescription medicines there are a range of safety protocols that have to be built into the system.  From a technical perspective all of that is incredibly challenging.
If I'm honest, the journey hasn't been easy but I went in with my eyes open.  I knew it was a complex challenge, made worse by a fundamentally broken system. My focus was and continues to be to develop a digital platform approach to drive innovation and provide a better-quality delivery experience for clients, their customers and the couriers themselves.
What is a typical day like for you?
I get up around 7/7:30am, drink water, exercise, shower and (when I remember) meditate for ten minutes, in that order. Then I journal and get stuck into work.
I'm in constant communication with the team because we're fully remote and I actually run the business from Portugal. I moved here temporarily at the start of 2021 for a change of scenery and ended up staying permanently. At first, I didn't think it would be possible until we expanded internationally, but distance from the rest of the team has given me much needed space to think about how we can set ourselves up in the same way that we want to set up the Gophr platform: highly decentralised and more efficient for it. It's encouraged for staff to work from all over the world too.
What's your definition of success?
I'm still trying to work that out to be honest. It was different five years ago to what it is now, however it seems to change for me on a daily basis. Right now it's delivering on the vision we set out years ago, if that fails I'm sure something else will come up.
What's your most satisfying entrepreneur moment so far?
It's always sitting at some point in the near future…
Have you ever felt unsure of a decision you made?
All the time. I'm a Turbulent Logistician (ISTJ-T personality) so it comes with the territory.
How do you keep your team motivated?
Hopefully by the fact that I trust them to do the job and we hire lovely people who are great to work with. If you treat people with trust and respect they tend to spread it around. Happy couriers and colleagues lead to happy customers and I think that's been overlooked massively by a lot of our competitors.
What is and how do you encourage company culture?
As the whole team is fully remote I'd say it's harder than it used to be. We try to get together about three times a year and give everyone a chance to speak and lead company meetings as well as provide opportunities for people to work across teams to get to know each other better.
How do you plan on growing your business?
Aligning incentives between couriers and customers. Our tech can help us make that happen now more than ever. Although it's taking some time to achieve that vision, I'm increasingly confident we'll get to where we've always wanted to be and that further growth will follow.