The tech sector has been among the few winners of the pandemic. According to Tech Nation, a new startup launched every half an hour in the UK between January and December of 2020, double the rate of the previous year. The entrepreneurial spirit and talent of British business owners, combined with record levels of funding has made the UK a competitive tech hotspot. So much so that the government has set up a fund to supercharge fast-growing tech firms to further foster tech innovation in the UK.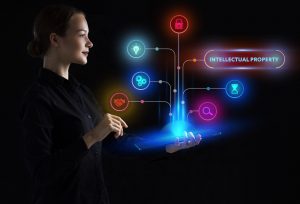 Behind almost all tech startups, and one of the primary assets of businesses today, is software, and with the growth of more advanced technologies in the UK, companies must be cautious about their software intellectual property (IP), especially as a startup. We've already seen some of tech's biggest companies battle it out over software copyright issues – in the UK, for example, the SAS Institute Inc v World Programming Ltd case saw SAS claim that World Programming Ltd (WPL) did not have rightful access to the source code to its SAS System software to create the software programme, eventually ruling in WPL's favour and sparking regulation changes to existing copyright laws. For startups and small businesses, these kinds of cases can cost a huge amount of money and damage reputations, and so protecting and proving software IP has become a startup essential.
What is digital asset IP?
When a company launches, there are steps it must take to protect and prove the ownership of certain assets. In the UK, companies must be registered in order to allow them to be legally recognised as a business, while assets such as company name, logo and other branding elements can be trademarked through the Intellectual Property Office to avoid other companies using them. But for digital assets, like software and source code, they must be protected in a different way in order to bring the same value and validation to the business. Much like a film script or a book, source code is treated as a creation of the mind, and thanks to a 1996 agreement to the Berne Convention, an international treaty that protects literary and artistic works under copyright, computer programmes are now considered a 'literary work' and can be protected to some extent under the Berne Convention. This means that copyright is automatically established at the time the expression is created. However, while the Berne Convention protects copyright of source code, software providers still need to prove this ownership and the prior rights of the digital asset if challenged in court. To do so, they must take proactive measures to protect their IP.
Proactive measures to prove your software IP
One way to protect and prove the ownership of source code and ensure it is fully protected under copyright is to deposit the asset  with a trusted third party. Not only does this force software developers and companies to think about who owns the right to their creation but it also timestamps the software and produces a certificate, proving the precedence of the asset. It is important to ensure that your deposit provider can provide a certificate that is recognised in all 179 countries that belong to the Berne Convention. In this way, software providers and developers are able to prove their ownership and secure their intellectual property rights. Before the modern digital age, creators and innovators would seek out the help of notaries and lawyers to secure their copyright, but many often failed to do so given the cost and time involved.  Thankfully, today there are trusted third party providers that offer digital solutions for digital assets which enable secure online deposits to an electronic vault and easy, even automated, updates.
Regular updates of deposited assets allow the developer to map the evolution of the digital asset, thus expanding the IP protection to each updated version of the software. And for simplicity of management (software is a constant evolving creation), it is wise to choose a deposit provider that can manage these updates automatically.
Why deposits and software IP are important for business growth
Deposit solutions that prove ownership of a software creation are not only fundamental to successful IP litigation and enforcement of copyrights, but it can also increase the valuation of a company and the likelihood of 'sealing the deal'.  If we think about the current state of the UK economy, there is an increased interest in the innovation space, with tech and software being the main drivers of this shift. This means that software-driven businesses that are seeking to raise funds, face an investor scene that is highly competitive, with investors being bombarded every day with opportunities from businesses. So software businesses must make their offers as attractive and competitive as possible. Having innovative and well-developed software is one thing but being able to prove that you own your software shows that you mean business when it comes to your creation. Moreover, as the importance of IP rights in the overall company valuation gains more global recognition, more investors are now demanding proof of IP protection. In the absence of such proof, valuation specialist firms have reduced the valuation of companies by as much as 20%.
Depositing your software source code with a trusted third-party reassures investors that you have protected your secrets and IP by mapping them out and timestamping them, limiting the risk of infringement and litigation from both external companies and internal employees. This can have an overall impact on the image that you present to investors as well as minimise the reputational risks and high costs that could occur from IP litigation, giving you that competitive edge that could just push investors to sign on the dotted line.
Article written by Philippe Thomas, CEO at Vaultinum