At a time where customer expectation is at an all time high when it comes to online shopping, the importance of accurate and speedy order fulfillment has never been more important. 
If you're an eCcommerce business owner or a third party logistics partner, you'll know all too well that refunds due to inaccurate orders can be very costly. With shipping and handling charges in mind, as well as an increased risk of losing customer loyalty and repeat sales, there's no room for errors during the fulfilment process. 
Although sending an incorrect item is a common mistake to make, small errors made in the pick, pack and shipping process can be drastically reduced by automating the tasks associated with fulfilling orders. Using technology such as an order management system (OMS) will not only remove the risk of human error, but will increase productivity within the warehouse and streamline the 5 key steps of fulfilment: 
Goods in: your inventory or stock is sent to a warehouse or fulfillment centre
Warehousing: inventory and stock is stored ready to be picked and packed for when new orders to come in
Pick and pack: the items of each order are collected and assembled in a parcel
Shipping: the parcel is despatched to the customer via a courier or multi carrier
Returns: products are returned to the fulfillment centre for processing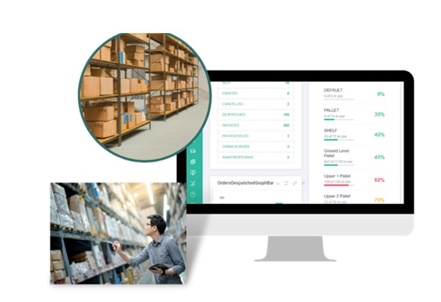 So, what are the benefits to using technology to automated eCcommerce fulfilment? 
1/ Save time by no longer have to manually check sales channels for orders coming in 
Most eCcommerce businesses will appreciate that it's no longer feasible to manually check for orders coming in at regular intervals – especially if you sell on multiple marketplaces. Not only is it time consuming, but it leaves you open to errors by missing potential new orders, which slows down desptach time. 
By opting to invest in an OMS with pre-built marketplace and shopping cart integrations, users can manage all their sales channels from one centralised platform by connecting the systems. 
Order management software also alerts users in real-time when a new order comes in, with the order information automatically being sent to warehouse operatives to pick and pack the order.
2/ Ensure warehouse operatives pick the right stock, every time 
From lost sales, incorrect order picking and damaged reputation, there's a lot of problems having an unorgansied warehouse can cause. If warehouse workers are regularly spending a lot of time locating order items, or picking the wrong one, you're at risk of experiencing long pick and despatch times.
Having an order management system in place will ensure workers know exactly what stock is available, as well as where it is being stored – helping to reduce errors and help deliver a more responsive and consistent service. Warehouse workers can simply scan to batch list, and have the item location at the tip of their fingers, within seconds.
An OMS can also create optimised pick routes for warehouse workers, which allows them to locate the correct product in the fastest way possible, further enhancing accuracy and efficiency.
3/ Avoid over-selling items
Accepting orders that you don't have the adequate stock level to fulfil is known as overselling, and can seriously affect customer service levels, by needing to cancel or delay orders that have already been placed by customers.
Order management software manages stock levels, so that sales channels remain up to date at all times. This is done by pushing out stock levels to all your eCcommerce channels at regular intervals, so if one item sells on your own webstore, stock levels are automatically updated on every other channel too – ensuring stock and inventory is synced with your marketplaces.
It's also easy to update stock levels using an OMS, as whenever you get any new inventory in, simply scan it in using a mobile barcode scanner, which will update stock levels in your OMS, as well as your corresponding marketplaces and sales channels. Doing this in a timely manner when stock levels are low is key to making sure you don't miss out on any sales.
4/ Automatically select the cheapest courier for the job
Delivery options is arguably one of the most important aspects of running an eCcommerce or logistics business, with 65% of consumers stating that they wouldn't order from a marketplace if there isn't flexible and convenient delivery available. 
Investing in an order management system with pre-built courier and multi-carrier API integration capabilities will allow you to simplify and speed up delivery times and the overall shipping process. 
Although it might take up more time to research the best courier to use and set up relevant integrations, this will be outweighed by having a delivery service which turns up on time, in condition, and at a price your business (and customers) can afford.  
An OMS has the ability to automatically determine which courier service to apply to your orders based on a number of rules that users set up. These smart shipping rules can include specific factors such as the parcel weight, end destination and order value. 
You can also set more specific product rules  so that specific products can be sent by different courier services for specialist needs – e.g. fragile goods or dangerous goods.
5/ Reduce errors when receiving and checking stock 
Any multi-channel seller or fulfilment house will be aware that stock checking is a time consuming – and often inaccurate – process if done manually. 
The process of  inventory putaway and checking stock levels can be sped up and made more accurate with the aid of mobile barcode scanning software. 
This particular technology allows users to scan any warehouse location and see stock available, whilst making any corrections or transfers
Mobile scanning also allows users to scan stock in and out of locations, which maintains traceability and reduces errors in comparison to doing this process manually, in addition to making it easier to manage the risk of orphaned/displaced products in a busy warehouse. 
By Dan Lawson, E-commerce and OMS Expert at Access Mintsoft