The application for the A303 Amesbury to Berwick Down road project has finally been given development consent after 30 years of delays.
The controversial new section of dual carriageway is planned to address problems associated with the single carriageway section of the A303 between Amesbury's Countess roundabout and the dual carriageway section to the west of Winterbourne Stoke. Grant Shapps, Secretary of State for Transport, gave his consent for the dual carriageway and tunnel scheme underneath Stonehenge, the UNESCO World Heritage Site, to proceed on Thursday 12 November.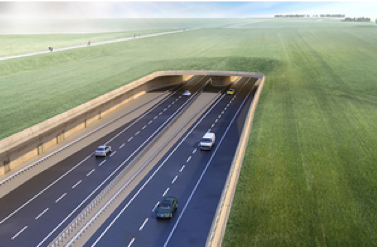 The project is designed to tackle traffic bottlenecks on a major route to south-west England and remove traffic from the immediate surroundings of Stonehenge which the National Trust claim will enhance the site. The scheme should boost economic development in the region and reinstate a rural landscape in an area of national historical importance.
But not everyone is happy with the scheme and the government's decision to go-ahead. Several archaeologist and environmental groups have spent years campaigning against the project over fears it would destroy the World Heritage Site.
The Planning Inspectorate's Chief Executive, Sarah Richards said, "There has been a great deal of public interest in this project. A major priority for us over the course of the examination was to ensure that communities who might be affected by this proposal had the opportunity to put forward their views. As always, the Examining Authority gave careful consideration to these before reaching its conclusion."
Fieldwork on the scheme is due to start in late spring next year, with the main five-year construction phase expected to start by 2023.