The UK's fastest growing gut health food brand, Bio&Me, created by The Gut Health Doctor, has closed a £1.4million funding round in a record 72 hours. The fundraise was supported by a number of high profile investors including England captain Harry Kane.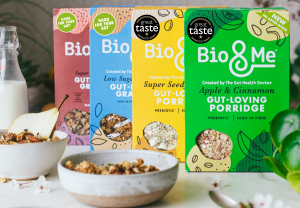 The investment round, which was over subscribed and closed within 72 hours, sees Harry Kane become a shareholder in the burgeoning business. Investors were impressed by the innovation and credibility that underpins Bio&Me as well as being drawn by the brand's mission to educate and make gut health easy and accessible to all. The brand will use the funds to fuel an ambitious growth strategy including signficant innovation in the cereal aisle and beyond.
Last year, Bio&Me trebled its sales to £3million retail and is on track to treble again in 2022. It is the fastest growing cereal brand in the UK (+389%[1]) and is uniquely-placed as a multi-category brand having been developed by The Gut Health Doctor, Dr Megan Rossi, BSc, PhD RD, who is a registered dietitian, nutritionist and research fellow at King's College London with an award-winning PhD in gut health. Working at the forefront of microbiome research, Megan's specialist knowledge, coupled with her driving passion to educate people about their gut health, has proved to be a winning formula.
The Bio&Me range carries the prestigious EFSA[2]-approved 'Good for your gut' health claim and comprises gut-loving porridges, granolas and live yoghurts, packed full of prebiotic[3] goodness. Stocked in over 1400 stores nationwide in Sainsbury's, the Co-Op, Waitrose and available via Ocado, celebrity devotees include Davina McCall.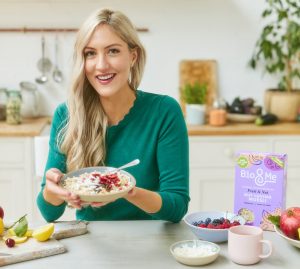 Dr Megan Rossi, Bio&Me co-founder, said: "We're delighted that Harry is coming onboard as one of our investors. As a dietitian and a scientist, it's always been my mission to close the gap on great tasting food that also truly delivers on its health claims. I believe that's what makes Bio&Me such an exciting propostion for consumers and investors alike."
Harry Kane said: "As a professional footballer, good nutrition and diet are very important to me. Bio&Me's growth trajectory has been phenomenal and I'm thrilled to be playing a part in the brand's next chapter."
Bio&Me co-founder and CEO, Jon Walsh added: "Bio&Me is clearly striking a chord with consumers. The brand's success is also down to some key supermarket buyers believing in us and supporting us over the last 12 months. Moving forward, we aim to make the brand accessible to even more consumers across a variety of formats, as well as looking further afield and launching products in different Food & Beverage categories."
The funding round was guided by Bio&Me's lead investor and serial FMCG entrepreneur, Giles Brook, who said: "Consumer health and wellness start from within and I firmly believe gut health will eclipse protein as the next global macro consumer trend. Bio&Me's meteoric rise has been driven by great tasting, truly differentiated prebiotic goodness with Megan and her team bringing authenticity and validation. The fact we were over subscribed and closed the investment round within 72 hours is testament to the belief in the category and Bio&Me. Exciting times ahead!"
[1] Growth YOY, NielsenIQ
[2] European Food Safety Agency
[3] Each Bio&Me serving contains 2g of your 12g per day of chicory inulin, which contributes to normal bowel function by increasing stool frequency.