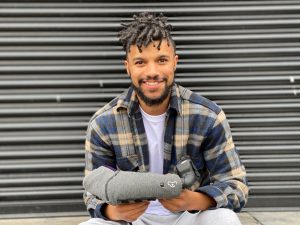 London-based soft prosthetics company, Koalaa, is celebrating after securing investment from British Design Fund (BDF), to help bring its innovative prosthetics to children and adults across the world.
BDF works with ambitious British startups who are ready to scale-up and build thriving stand-out businesses. Alongside capital investment, BDF provides expert mentoring to support such companies to accelerate their growth plans.
BDF invested in Koalaa under the EIS scheme and is the company's first institutional investor following an angel round in May 2020. The funds from BDF will be used to increase manufacturing capacity at the company's west London facility, in line with rising demand. Koalaa will also be building on the success of its 'virtual clinic' model that allows new wearers to be measured, fitted and supplied with prostheses remotely.
Moving forward, Koalaa plans to start commercialisation of its early rehabilitation soft prosthetic sleeves, which are designed to aid recovery starting in the days immediately after an amputation. The company is also soon to launch its products and services in a select number of countries in Asia, the Middle East, Africa and North America.
Koalaa's founder, Nate Macabuag, was recently named in Forbes' 30 under 30 listing for social impact, which highlights the most influential people under the age of 30 from across the world.
Commenting on the news, Nate said: "We're delighted to have the backing of British Design Fund and look forward to working with them as we scale-up and expand our operations in the UK, but also begin entering new markets across the world."
He continued': "Our aim has always been to make prosthetics accessible to every single person in the world who wants one, at a price people can actually afford. We want to help people continue doing the things they love and to lead the life they want to lead, supporting choice and opportunity through enabling prosthetics and holistic support."
Koalaa's soft prosthetics, the first of their kind in the world, have completely reimagined prosthetics from the design to the way they are fitted. Rather than being heavy and rigid like traditional prosthetics, Koalaa's products are made from material, lightweight and flexible. As such, they can be used by children as young as one year old.
Their design sees wearers putting on a sleeve that can be fitted with different tool attachments, depending on the task or activity they would like to do. For example, to hold a pen or cutlery, chop vegetables, skip, paint, saw, ride a bike, or play the drums or a guitar. Alongside this, wearers become part of the Koalaa Community and are provided with a 'limb buddy', who supports them every step of the way.
Damon Bonser, CEO, British Design Fund, said: "Koalaa is a fantastic young company, with an ambitious and passionate team at its core, and an innovative product. It's affordability and accessibility make it a gamechanger and we see huge growth potential. We're delighted to welcome them to our portfolio."
For more information visit www.britishdesignfund.co.uk or www.yourkoalaa.com