A Northampton start-up that has designed a unique hybrid motorcycle and is already grabbing the attention of UK police forces, has just secured a £150K investment from British Design Fund, along with a further £150k from angel investors.
White Motorcycle Concepts (WMC) was founded by engineer Robert White in 2018. With a background in high level motorsports, Robert has developed a product that bridges the gap between lowering emissions, while overcoming the current challenges presented by going electric. The technology's potential for emergency service first responders being quickly recognised.
Since introducing the world's most aerodynamically efficient motorcycle featuring the company's patented Venturi Duct, in June 2021, WMC has paired this innovation with two detachable batteries, designing it into a motorcycle with two front wheels, which can be ridden on a standard car license.
The three-wheeled motorcycle has been developed in conjunction with Northamptonshire Police, with the cooperation and guidance of the Northants force's Chief Constable Nick Adderley – the Motorcycle Lead for UK Police. It combines three-year's worth of research, with the latest hybrid technology and can reduce carbon emissions by up to 50%, compared to conventional motorcycles and scooters.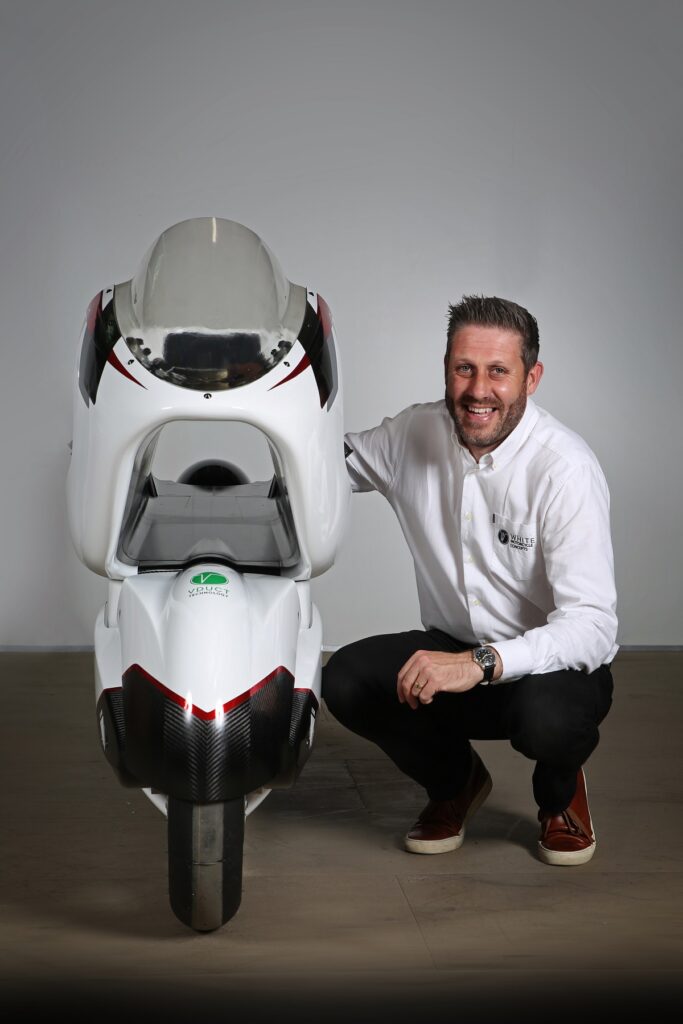 WMC founder Robert White, explains: "The emergency services have been tasked with reducing their emissions and face some unique challenges in doing so. They need their first response vehicles to be ready when they're needed and available to go when they need to go. A lack of fast charging infrastructure and issues with installing them onsite, currently makes it very difficult to fully switch to EVs.
"Our hybrid design overcomes all these issues, while maintaining range and speed capabilities. The duct reduces drag making them more efficient, while charging separate batteries on a three-pin plug back at base, means that they can go from empty to fully charged in a matter of seconds. Or a spare battery can be carried, removing the need to access a charger on the move."
Robert continued: "We're delighted to have secured investment from British Design Fund and our angel investors, who recognise the global potential for our offering. Receiving our first order was a milestone moment for us and from here, we expect to rapidly scale, while continuing to build relationships with leading motorcycle manufacturers who could benefit from licensing our designs in the future."
WMC recently received its first order for eight bikes from Northamptonshire police and expects to supply the force with a further 12 bikes by the end of the year, which will be leased to other UK police forces. The company is targeting the manufacture of 100 bikes in 2023.
As well as supporting each force's carbon reduction targets, the motorbikes benefit the police in driving engagement, by increasing the visibility and accessibility of officers.
Damon Bonser, CEO, British Design Fund, commented: "WMC is a fantastic addition to the Fund's portfolio and we look forward to working with the team, as the company scales up in years to come.
"What the investment committee were really impressed by was the leadership team at WMC, which combines outstanding engineering and commercial expertise. The product itself solves an important commercial need, with global potential and strong market interest already established, and a clear licensing opportunity in the future."
British Design Fund (BDF) works with ambitious British product start-ups who are ready to scale-up and build thriving stand-out businesses. Alongside capital investment, BDF provides expert mentoring to support such companies to accelerate their growth plans.