Careology and Nuffield Health, the UK's largest healthcare charity, have extended their partnership to provide people undergoing cancer treatment access to advanced digital cancer care technology at 12 Nuffield Health hospitals across the UK.
During a successful pilot of Careology's digital cancer care platform at Nuffield Health Derby Hospital, which ran from February to October last year, over half of the patients who were provided with the Careology digital cancer care platform (through an app) each month logged their symptoms in response to medication (such as chemotherapy), vital signs and engaged with their clinical nurses about their wellbeing from their home.
In total during the pilot, users of the app made 980 symptom updates, 365 journal entries and marked 6,755 medication doses as taken.
Elisa Mills, Nuffield Health's Cancer Services National Lead, says: "Receiving a cancer diagnosis is an incredibly daunting and worrying experience for anyone. Our approach is to support our patients with the latest digital technology to help them understand and engage with their care, which we hope will support our clinical teams to deliver the best clinical outcomes to as many people as possible. The pilot deployment of Careology's cancer care platform at Nuffield Derby Hospital was a smooth and professional implementation that was deployed with no extra resourcing or staffing required. It was embedded into the teams' processes and quickly proved beneficial, connecting our patients in their homes to our nursing team at the hospital. We look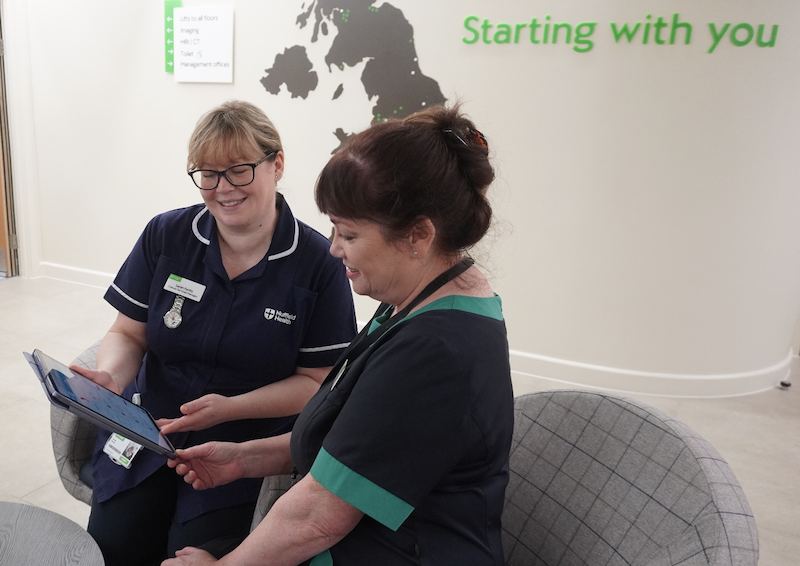 forward to seeing more positive outcomes at our other hospitals across the UK."
Jo Nicklin, a patient at Nuffield Health Derby Hospital who used the Careology digital cancer care platform during the pilot, says: "It's like having your cancer care in your pocket. I used it to keep track of my appointments, medication and to report side-effects. Undergoing chemotherapy is brutal at times and the app was supportive, providing instructions if there were any problems. I used the app during the second part of my chemotherapy and I felt it was useful to have, as I didn't have it for the first part of my chemotherapy." 
During the pilot, the digitisation of questionnaires, such as "Holistic Needs Assessments" (HNAs), on Careology's digital cancer care platform meant people undergoing cancer treatment at Nuffield Health Derby Hospital were more forthcoming in completing them. This enabled the Nuffield Health Derby hospital team to develop personalised care and support plans more easily. Additionally, feedback from nurses and patients during the pilot fed into design improvements of the cancer care platform. Any changes were made incrementally; for example, patients said that they were forgetting to update their symptoms in the app so push notifications were created, increasing engagement by 12%.
Julie Little, Cancer Services Lead and Macmillan Lead Oncology Nurse and at Nuffield Health Derby Hospital, explains: "Careology's digital cancer care platform acted as an extra layer of care for our patients. Careology is continually improving their software based on the feedback and insights our hospital provided during the pilot. It's very much part of Nuffield Health's connected healthcare ethos to look after body and mind of our patients and Careology's cancer care software provides another important way to stay connected with our patients when they are at home." 
Careology cancer care software is a recommended service by Macmillan Cancer Support and last year (2022), Careology's digital cancer care platform won the award for 'Excellence in Supporting Patients and Healthcare Teams' at the Forward Healthcare Awards 2022. 
Paul Landau, Careology's founder and CEO comments: "We're delighted to be extending our work with Nuffield Health as they accelerate the roll out of Careology across their hospitals to help transform cancer care. We know that technology can improve patient safety and give care teams early visibility of issues which frees up time to care for those who are most in need. This ultimately means that more people living and dealing with cancer are getting the best possible care, creating a better experience for patients, families and caregivers."
Nuffield Health's extended partnership with Careology is part of the healthcare charity's digital transformation plans and ambition is to ensure our hospital patients are receiving the best possible experiences when using our services.