In the world of the media SMEToday is a young publication and, as with any business, it's important to celebrate all milestones.
We're thrllled with the success, recognition and traction that the publication has to date as we celebrate the amazing work, expertise, insight and stories associated with the diverse, vibrant and innovative SME sector across the UK and beyond.
Hence why our feature writer, Fiona Scott, finds herself this week in Las Vegas at SuiteWorld2023 – a three day event to celebrate and share information on NetSuite and its parent company Oracle.
How did this trip come about? The answer is unexpectedly.
Fiona specialises in writing about people and putting a human face to any story, even if it is about tech. She finds the human interest in all things – as many journalists do.
A few months ago she interviewed Adam Taylor of  Petshop.co.uk – during that interview Adam talked about how NetSuite helped his business to flourish and grow from a low base (where we all start) to £25m turnover and moving towards a target of £100m. Adam stressed the importance for him of an efficient software platform which could also be 'personal' to his clients so that they felt valued. The article is here – https://www.smetoday.co.uk/in-profile/the-pet-food-entrepreneur/
As a result, Fiona was invited to Las Vegas to find out more about NetSuite, the companies that use it and 'how' they use it. This the first article in a series of several from that conference which takes place between October 16 to October 19.
For context, NetSuite celebrates its 25th birthday this year and it is a software company and cloud-based business management platform used by more than 37,000 organizations globally – this is up from 32,000 the previous year.
Organisations in the UK such as Paysend, The Cheeky Panda, Buster + Punch and International Schools Partnership use NetSuite to run their business. NetSuite consists of a suite of applications, including accounting, inventory, orders, procurement, CRM.
Here's Fiona's first instalment from SuiteWorld 2023:
"I'm not the most techie of people but I recognised this opportunity the moment it came up. When I interviewed Adam some months ago, it was important to him that his clients felt valued, even if much communication was done through a software platform. To be clear Oracle has covered my travel and accommodation costs but I'm not being paid to be here, I've chosen to come because I'm interested in the tech/human dynamic.
"It's too easy these days for people to feel like a process, to not feel valued and that doesn't build loyalty if you want them to stay with you and buy repeatedly. Let's face it, without customer service and making a client 'feel' valued – they will probably make their choice upon price and head off somewhere else at the drop of a hat. For Adam, NetSuite allowed him to feel closer to this clients even though his business is scaling and now employs around 80 people. He has to do all he can to support his team and also to keep customers coming back again and again.
"In this age of tech and AI (and I'm not afraid of AI I just think it needs to be bound by a global ethical code) the human being must not be forgotten – otherwise there would be no need for it at all. When we use words like 'clicks' 'reach' 'impact' or 'users' – we mean people. It all comes back to people.
Las Vegas: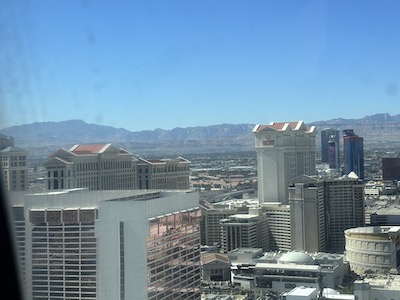 "What a crazy place this city is. The name translates at 'the meadows' and it's truly the most bonkers place I've ever visited (and I've been to Disney half a dozen times). It's all centred around a few key things – gambling, sex, love, marriage, drugs, entertainment, hedonism with a splodge of religion thrown in. In fact, some of its roots lies with the Mormons which I found incredible. You can almost smell the money here. It feels like all things might be possible.
"On the ground, the Strip is not that long but walking anywhere takes ages. It's designed to be a labyrinth to distract and beguile you. Getting somewhere is not straightforward – you can't just easily walk across the road. You are taken, around over and down so that you can be distracted by shops, shiny lights, big statues – it's the ultimate in money making to keep the eye and the heart moving, uplifted, full of wonder and to keep you handing over your dollars.
"Every hotel (apart from the budget motels around the edges) is not a hotel, it's a resort experience with one trying to outdo another to get you to stay, to spend, to experience and, of course, to gamble.
"I'm not a gambler so the sight of so many machines, lights, the noise, the people playing at 7am, is something I've never seen.
"Yet is clearly has its problems, there are homeless people, people taking drugs and there are so many shops selling cannabis (not CBD products though you can get those too). The place reeks of it although it's the law that it can only be smoked in the privacy of your own home or in designated areas. However it's clear this is impossible to police.
There is light and shade here. As with all places yet here it so stark because it is all so bling.
The People:
As with any place, however crazy, there are lovely people and they truly put the sparkle into anything. I've made it a bit of a mission to chat with 'ordinary' folk while here.
One was Kelly, a bar manager at the Robert Irvine Public House in the Tropicana hotel who has lived here his whole life. He talked about the artificiality of 'the Strip' and how most locals don't even visit except to work and what a wonderful place Las Vegas is. He talked about the Caesar's Palace Forum as 'a mall' and how he and his buddies hung out there as teenagers and it all sounded so normal. He was chatty, friendly and ready to answer questions and ask questions of us.
"Then there was Ellie, the Big Bus tour guide based just outside the Flamingo Hotel, who chatted to us for almost an hour when the tour bus was late. She'd been in Las Vegas for a year on the day we met her – she was just 20 and had made a decision to start a new life away from her place of birth in Montana. Ellie, couldn't believe that one of her colleagues thought I was her mother! She also kept making notes on her phone when people said interesting things to her – she thought it was funny that we were on a local bus and saw a gun shop, a wedding chapel and a cannabis shop all in a row…for her that was not what Las Vegas was truly about.
"People are generally friendly here and customer service is largely exceptional. Yet for the first time not entirely. We had words with a waiter who, on paying, took our credit card to pay the bill, went off with it, and then came back – I'd not swiped it, or put in a pin number – so how did that work? I questioned that and said I was not happy that that was possible? I was told that was how it was done here and it was completely safe because there are security cameras everywhere. It didn't feel safe to me.
"In another moment, there was a pop-stand in the Forum Shops where a chap was trying to call me down to sample his free Iphone product. I said 'no' and walked by, he was shouting after me 'it's free'. Later, I came back to the same area and he tried again. This time I took his leaflet and he then said I could take the 'free thing' as I walked by. The next thing I knew something hit me in the back – he'd actually thrown it at me. I've never had that before. So may be all in 'the meadows' is not rosy.
One amazing moment though was a true taste of my home in Wiltshire. I passed the Museum of Illusions (very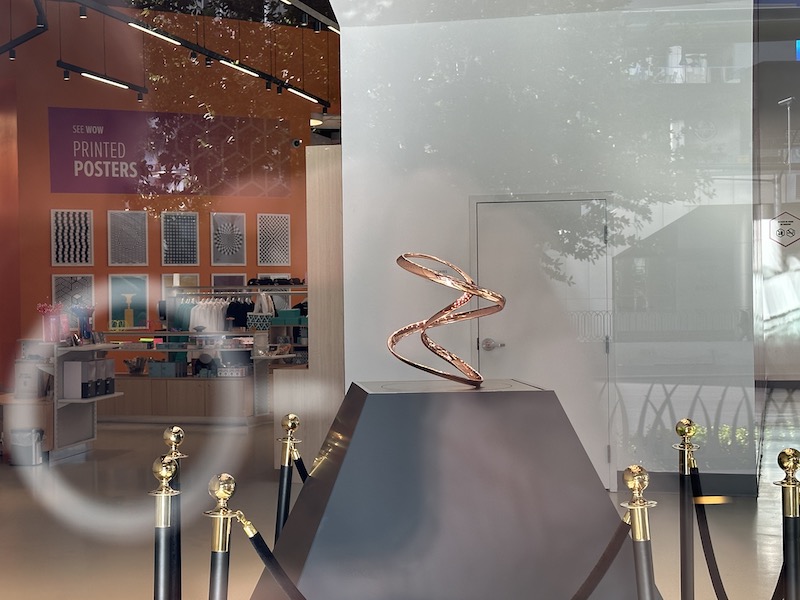 apt here) and to my astonishment the main attraction in the window was the creation of Wiltshire investor Tom Lawton. The Wonder is utterly unmistakeable, I did some PR for it for Tom when it was created and the first one sat in Malmesbury Abbey in Wiltshire for months. It truly is a 'wonder' – I couldn't believe it was also on the Strip in Las Vegas.
SuiteWorld2023:
The first sign of this conference for me was a lady, Marian, waving a baton with the logo in one of the many gambling areas of Caesar's Palace – where I'm staying. She directed me to registration – and here was the problem.
She directed me according to her personal, local understanding of Las Vegas – take a little left and cross over and it's in the Forum.
With my knowledge, I went left, crossed a road in front of me and ended up in the The Forum shops – an upmarket mall which is part of Caesar's Palace. I'd spend several hours getting lost there the day before and was attracted to some sparkling trainers which turned out to cost $5,000 – I decided I wasn't that attracted to them!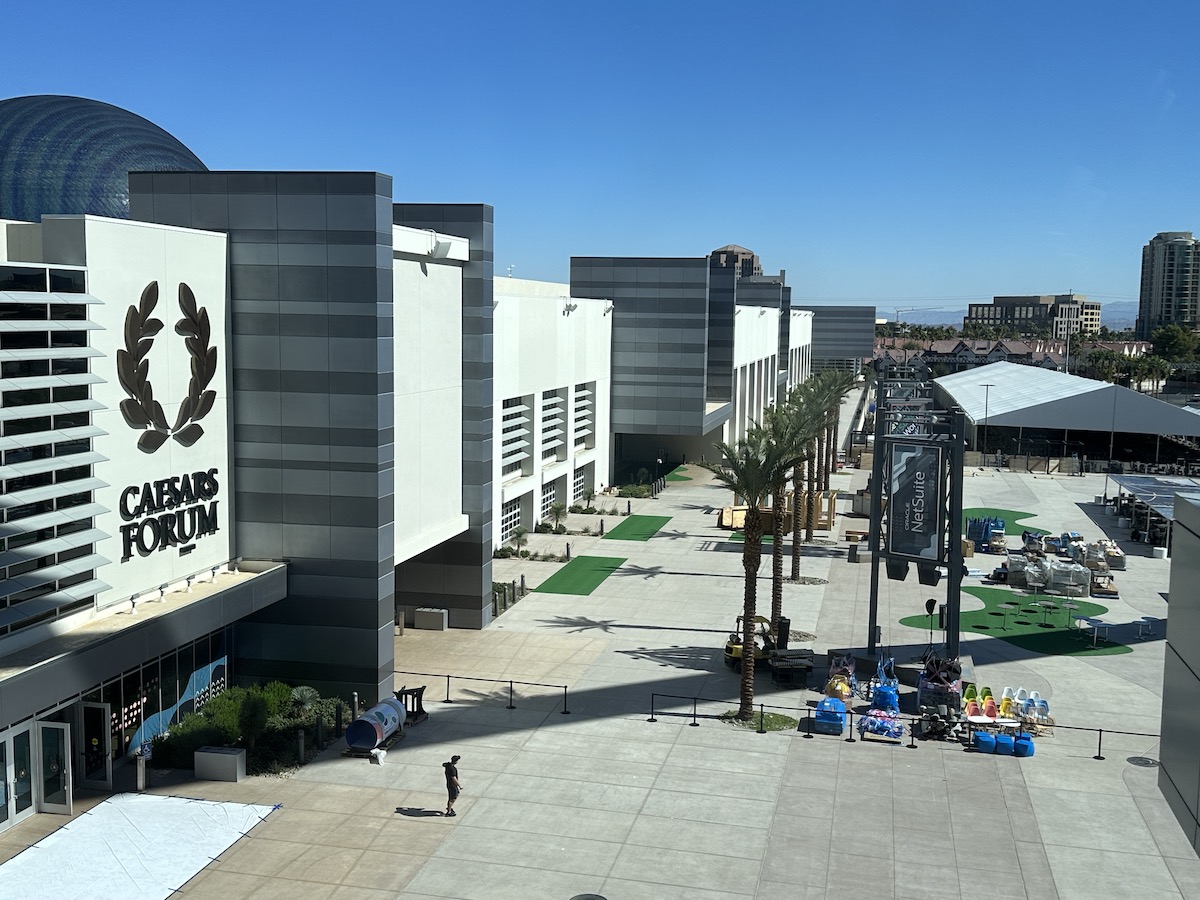 The vastness of this place cannot be underestimated. After getting lost and asking another ten people, I ascertained I should have left that lobby, crossed a main road immediately, headed down a shopping street where the Flamingo Hotel was located and then up steps and over a bridge into Caesar's Forum Conference Centre. It's a totally different building.
This was when I realised how vast this event was going to be – on a scale of say the Caravan & Motorhome Show at the NEC in Birmingham – and then some. It's spread around the centre and in the Flamingo hotel nearby (built by a man who hated birds but his girlfriend was known as the Las Vegas Flamingo because of her long legs, apparently). I collected my pass and met several other attendees in passing – so far all male.
I'm not deterred. As I write this, it's Monday morning in Las Vegas and the main kick-off event is at 5pm. I'm preparing to be overwhelmed. Yet I'm ready to find the people in the room who believe that tech is all about people.
One thing I will say is that the press team looking after us all have been utterly amazing so far. They have been organised, responsive and supported and, with my PR hat on, I notice and appreciate these things and the amount of work that goes into an undertaking like this.
More to Come – Fiona