The Northern Affinity, a business community powering growth and development across the North has seen significant growth as business owners look to collaborate more in a post lockdown world.
The firm has witnessed an influx of northern businesses looking to expand their networks, work together and share advice. Alongside 58 small business owners, a selection of corporate flagship firms have become partners of the community.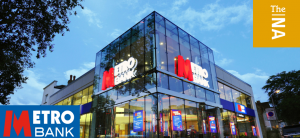 In May, Metro Bank officially became a Northern Affinity partner. As part of this, Metro Bank is providing access to its branches and facilities for The Northern Affinity meetings, including at its soon-to-open Bradford branch. Other larger partners include the Rotherham Chamber of Commerce which became a partner in March.  The two businesses look to work together more closely to facilitate the safe return of in person events in South Yorkshire.
Andrea Ottewell, local business manager for the north at Metro Bank said: "We have personally followed the growth of Northern Affinity for some time now and it is evident that our values, relationship led customer focus and community support are aligned.
"Providing SMEs with a platform to engage with local resources, within a single hybrid solution, this safe collaborative space, allows for the acceleration of innovation and Northern growth. Lizzie Jowett, local business manager at Metro bank added: "We're dedicated to helping small businesses grow and thrive and have the expertise to help make a difference. It made sense to partner with The Northern Affinity to further support SMEs across the North."
As a partner of the Northern Powerhouse, The Northern Affinity is committed to championing businesses within the North. Earlier this year, the firm expanded into South Yorkshire and Greater Manchester. Since then, it has grown its community significantly. With lockdown restrictions now easing, its in-person events have also been re-introduced. These events, held across the region, have been well received by the business community – with 85% selling out.
"As the UK economy begins the journey out of lockdown, we're proud to be there to support the North's small businesses and entrepreneurs," said Michael Edwards, Founder at The Northern Affinity. "What's refreshing is we are seeing a number of larger firms demonstrating their commitment to supporting the smaller businesses within the region, and thus becoming trusted partners.
"We are predominantly a community for small businesses, but when a larger firm seeks to provide support to our partners and their values are clearly aligned, we welcome them with open arms. "I'm looking forward to seeing what the future brings as we begin to work together with more and more people across the north," Michael added.
To view upcoming Northern Affinity events, please visit The Northern Affinity website