New research finds half of UK homeowners don't have enough internal space. The new study conducted by self storage provider, Ready Steady Store, surveyed over 1,000 homeowners to understand their storage habits and needs. The results showed that despite a fifth of respondents refusing to sell any items second-hand to declutter their homes, 50% still believed they needed additional space.
This research comes as the Bank of England debates further increases in its base rate, which have forced interest and resulting mortgage rates to a 15-year high. As such, increasing numbers of homeowners are unlikely to be able to upscale their properties in the current market.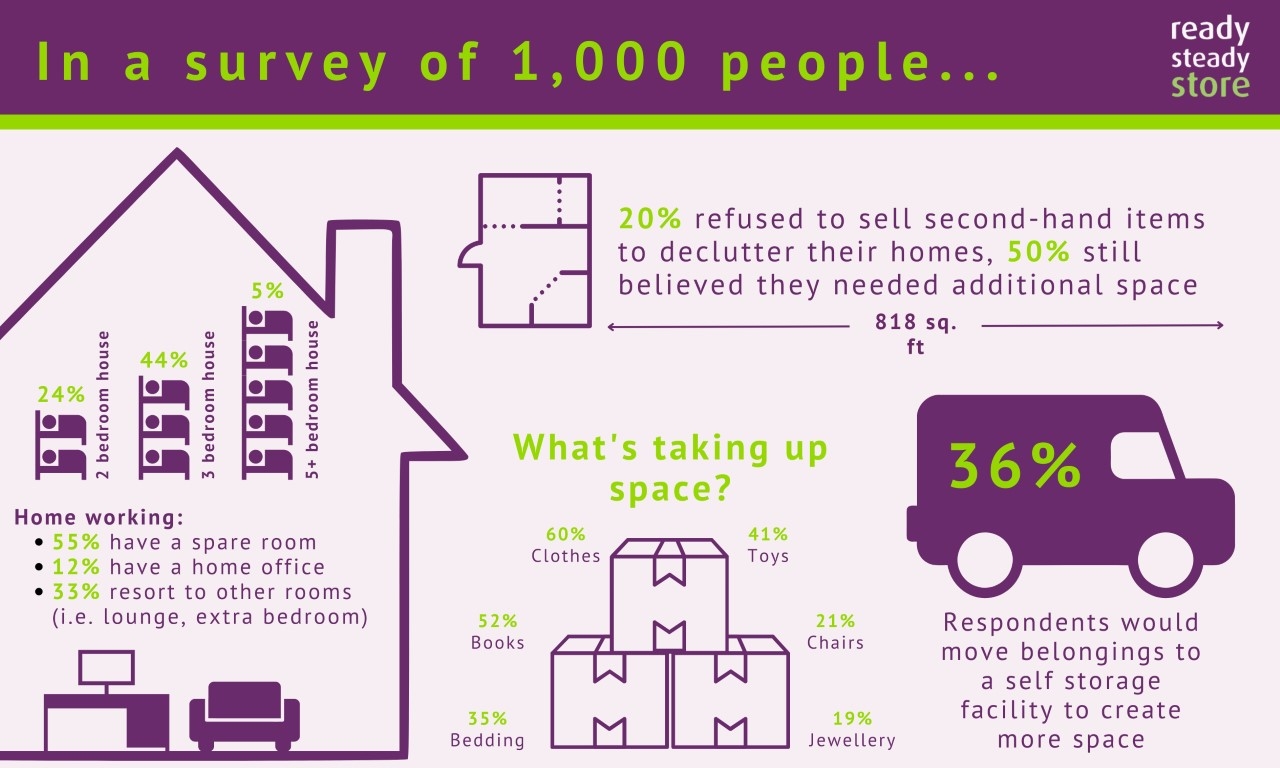 The survey also found that 44% live in a 3-bedroom house, 24% live in a 2-bedroom house, and just 5% live in a 5+ bedroom house. 55% of respondents also have a spare bedroom, yet only 12% have a home office to work from, with the rest resorting to other rooms such as the lounge or an extra bedroom.
When asked what items were taking up the most space within the home, clothes topped the list with 60%, followed by books (52%) and toys (41%). Bedding came fourth on the list (35%), followed by chairs (21%) and jewellery (19%).
Interestingly, 36% of respondents revealed they would move belongings to a self storage facility to create more space, rather than looking to move house in the current market.
Commenting on the findings, Mehran Charania, Director of Ready Steady Store said: "We understand that many people struggle with limited space in their home, something that can be especially challenging when mortgage rates are high and the property market remains uncertain. It is clear from our findings that many are struggling with the number of possessions they own and don't want to part with them but feel trapped due to the lack of available space.
He further added, "For those needing extra room for personal or professional reasons, our research shows self storage solutions could provide the answer. We believe everyone should have access to secure and convenient storage solutions. That's why we offer self storage solutions across the country so people can free up some much-needed space within their homes."
Self storage facilities offer an ideal solution for those who need extra space but want to avoid the hassle and cost of moving house or renting additional premises.
Established in 2005, Ready Steady Store is one of the fastest growing self storage provider with cost effective storage units located in the Midlands, and South, North and East of England.
For more information, visit: https://www.readysteadystore.com