Embello, a leading printing and merchandise company based in the Midlands, has donated rucksacks to children facing serious life challenges including illness.
One recipient, six year old Taylor Lewsley (pictured below), is thrilled with his rucksack. The young boy, who had meningitis as a baby, has endured 84 operations and is one of 100 children who have received this lockdown gift.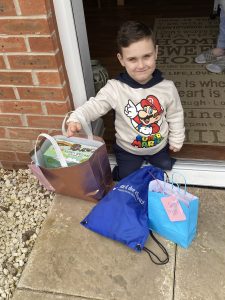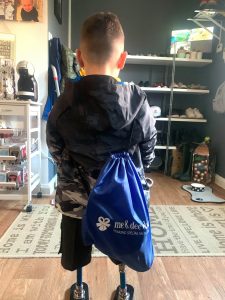 Boss Kyle Raffo heard about the issues faced by Derby-based charity Me&dee which provides free holidays for families where a member has a life limiting, life-threatening, or terminal illness. The charity owns a holiday lodge in Sherwood Forest.
However, lockdown has prevented these holidays from taking place and charity founder Maria Hanson MBE wanted to support families during this difficult time.
Maria, who founded the charity 15 years ago, said:
"Not being able to offer holidays to the families we are trying to support is heart-breaking however it's necessary at this time. We are here to help families make memories when some of their members may have very little time left. Instead we wanted to send 'wellbeing rucksacks' to each family containing gifts, to show them we care and we're still here to support them."
Kyle Raffo, decided to help and donated 20 out of 100 rucksacks free of charge, and also provided the remaining 80 at cost.
He commented:
"The pandemic has been challenging for all of us. However, if you have a family member with a terminal illness or a life-limiting condition, it's difficult for any of us to imagine the day to day reality of facing that situation. I was more than happy to support Maria when I heard about her wish to supply wellbeing rucksacks to children she is trying to support across the Midlands."
Kyle's company Embello, which is based in Wilnecote, Tamworth, has pledged to donate a total of £120,000 over the next ten years to good causes throughout the Midlands, to help them spread their own messages and raise awareness.
Me&dee was set up by Maria and her cousin Delia, who has since passed away, after they both faced serious illness. Maria (Me) had a period of her life where she was very ill and had several operations, Delia (Dee) also had cancer and both felt there was little support for them when they needed it most.
"Most charities will support you in certain defined situations and if you don't meet that specific criteria, then you don't get any help. We wanted to create a charity which didn't put those restrictions in place. We help anyone who faces the challenges created by life-limiting or terminal illness." Maria said.
Kyle stated:
"Giving back is an important ethic within our company. We work with 100's of other companies nationwide and overseas, to produce their branded merchandise, and this allows us to offer something to smaller charities and social enterprises who would really benefit from the kind of services and products we offer."
Kyle set up Embello (previously known as Expand Digital) when he was 16 years old and today his team work with brands including Twitter, The D-Day Darlings, Business Live UK and Loughborough University.
Embello have been helping brands across the globe for over a decade; telling clients' stories through creative marketing materials. With a 24 hour turnaround on thousands of products, from printed stationary to embroidered workwear, outdoor signage to branded merchandise, the Embello team are dedicated to being the UK's no1 printing, promotional merchandise, and branded workwear specialist.
Any Midlands-based charity, not-for-profit, or social enterprise can apply to be considered as one of the beneficiaries of Embello's Community Fund by visiting www.embello.co.uk/community and completing an application form online.
For more information about Me&dee, visit:
https://www.meanddee.co.uk/