Kitty Bates is a MICE (Meetings, Incentives, Conventions & Exhibitions) content creator at Foxhills club and resort in Surrey, looks at the latest trends in Teambuilding as we move forward into 2022.
Now in 2022, our lives are still disrupted by pandemics and while progress has been made with vaccines and rapid testing, we still need to be mindful of others around us and their levels of comfort.
Teambuilding, a huge part of company life, has unequivocally been affected by the pandemic and ensuing lockdowns. Even companies that were fully remote before lockdowns have been unable to meet for regular meetups and connect in person.
In person connection and time away from screens is often the core of what teambuilding used to be, so how does that now look in 2022, a very different and changed world to pre-COVID?
Why Do We Still Need Teambuilding in 2022?
Even though teams may be hybrid or fully remote, the need for and importance of team building has not left. For teams and companies of any size to work together, they need to understand one another, how they work and also have a connection with one another.
While remote working, this need has never been more important. Unlike in the office where jokes and cups of tea can be shared together, when working remotely, general camaraderie is harder to maintain. Slack, Teams and other workplace chat systems can help, but won't replace in person communication.
Teambuilding doesn't just mean sitting in a hotel conference room discussing objectives, it's about overcoming problems and stimulating innovation.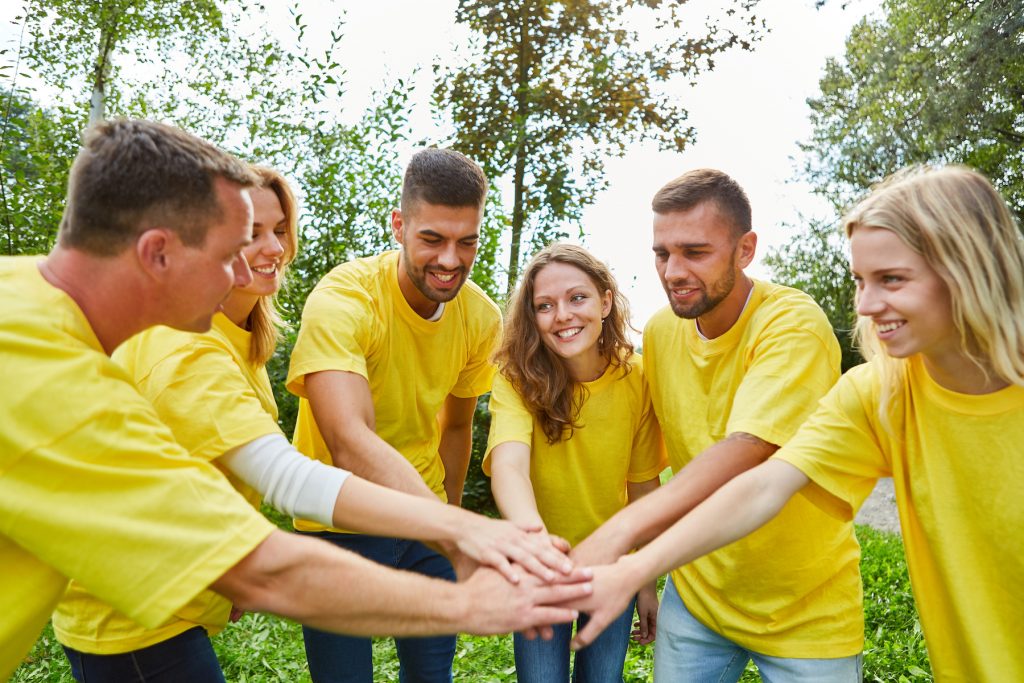 Searches for Team Building in 2021
In 2021, according to data from Google Trends, searches for teambuilding rose at the beginning of the year, as we entered another lockdown, and then spiked in April, just at the country began to reopen.
There was an emphasis on fun team building, as people wanted an opportunity to connect in different ways. Popular breakout topics included:
Miniature golf
Sports days
Murder mystery games
Pictionary
Scavenger hunts
Skills based
Outdoor activities
Trends to Carry Into 2022
In 2022, teambuilding can still happen, it just requires some creativity and outside the box thinking.
Based on the search trends from last year, here's some ideas for your next team building day in 2022.
Make it accessibly active
For many people, activity doesn't look like a regular 5k run. Instead, it could be lifting heavy in the gym, playing a team sport or something more out there, like quidditch or canine cross. There are multiples things that people enjoy doing to keep fit and active.
In light of this, you could do a range of activities that cater to everyone's preferences in a company sports day. For example, a day could look like the following:
Fastest time to complete an obstacle course
Most creative way to complete an egg and spoon race as a team/ in a relay
The heaviest weight your team can lift together.
Creating a stable structure that all your team can connect to
Winning a game of croquet in pairs
By thinking outside of the box, you can create a sports day that caters to multiples people's enjoyment, while encouraging teams to work together and encourage one another on. This way, you can also stay outside and keep safe.
Making a virtual day
While we're all online, all day, every day, virtual teambuilding days don't have to be solely online. You can group at the beginning of the day, share the day's activities and send people on their way.
As part of the trends shared from Google, an online murder mystery day, or an escape room, are all fun ways to get people thinking differently and exploring activities outside of their job role.
There are numerous ways to hold a virtual teambuilding day without being online the whole time.
For example, you could:
Get employees to explore an area near them and come with a business pitch to commercialise an aspect of it.
Create a virtual hub and get employees to level up by performing different tasks, whether scavenger hunt related, a murder mystery day or treasure hunt.
Host a day based on a famous TV show, such as The Wheel, The Weakest Link, Taskmaster or more. This makes it easier to plan, while doing something a bit different to other more traditional team building activities.
Create a wellbeing focused teambuilding day
As well as outdoor activities and virtual days, team building can also be a chance to rejuvenate in peace and quiet. This could be focused on giving employees a space to breathe, or a gentler place to recoup after a busy season.
By relaxing together as a team, you have the opportunity to discover and learn about one another, while learning new skills that provide further solitude and peace.
A wellbeing teambuilding day could have a yoga class or a mobility session, guided meditations, as well as opportunities to explore the outdoors in a calm fashion. For many, these kinds of days act as a sign of gratitude to your team for carrying on through the past two years.
Skills based teambuilding
Skills doesn't have to mean work related, these kinds of days could be more about soft skills, communication, mental health related and more. You could create a day around learning things outside of your company's industry, like learning about tree surgery, how to code, or something completely off-piste, like memory skills and technological ability.
By teaching your team transferrable skills, you can provide them with training and benefits that will not only help their work career, but will also apply to their daily lives, creating measurable impact.