Inspirational award-winning speaker, empowerment coach and best-selling author of 'Unleash Your Awesome', Taz Thornton, is looking for 25 self-employed people or business owners to become the Elite25 – all people who want to create positive change in the world.
Elite25 will launch later this month, so those taking part will be able to start the year with new ideas and processes to make positive changes through self belief and by transforming their own outlook, message, business and brand.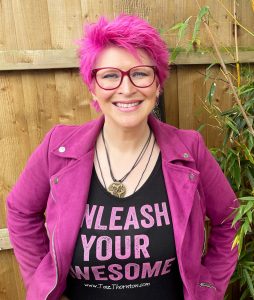 Taz, who lives in Lincolnshire, has had more than her fair share of negatives to overcome to get her in the positive place she is in today. She now looks back with gratitude for the rich teachings and her life experiences and can share her insight and expertise with the Elite25.
"I've long been passionate about supporting our self-employed community, and Elite25 gives me the chance to inspire, motivate and mentor them in a really powerful – and affordable – way for an entire year.
"I'm really excited about being able to encourage these awesome people, who all have the potential to contribute to rebuilding our economy in a very real way."
The Elite25 may not have been in business for long, may have been self-employed for quite a while but, for some reason, the cash and clients are just not rolling in as they had hoped. Something is missing.
For many years now, Taz has been supporting smaller businesses, sole traders and those needing better cashflow with small budget, group coaching.
"It's been a tough few years for many," said Taz. "Whether you're established and need some support or just launching and needing advice and accountability, this course will take you to the next level."
 The Elite25 will benefit from monthly live group coaching and mentoring, covering everything from mindset, message, social media marketing, personal branding, pricing, mindset sales, client creation and PR.
Not only that, they'll be part of an online support group, where they'll be able to keep one another accountable, gain encouragement and get direct access to Taz for advice and coaching between sessions.
There'll also be regular tasks and actions to help them grow their business, brand and potential. This may mean becoming more well-known and in demand, upping their audience, getting more clients and/or building their bottom line.
Taz, said: "The chosen Elite25 should be ready to unleash their awesome. Sometimes you have to do something bold to change your life and/or your business." 
In a recent special edition of 'World's Leaders' international magazine that shines a spotlight on business achievers around the world, Taz was named as 'one of the world's 10 most influential business leaders' and the magazine also singled out Taz as one of 10 executives who are 'leading their organisations to success with their exemplary leadership methods… who have made a significant mark on their industry and who are showing potential to transform the future.'
To find out more about Taz and the Elite25 visit: https://tazthornton.com or email Elite@TazThornton.com