Winning a business award is a very appealing concept – the shiny trophy, the adulation from the audience, the motivation created for the team and the amazing promotional prospects.
Business owners and marketing teams are always testing and perfecting ways to raise brand profile, increase awareness, win and retain clients and build team cohesion. Winning a business award can really boost team morale, drive competitive advantage and secure trust in your business. So how do you go about winning? Lack of confidence is an often-cited problem, alongside limited time and resources.
Businesses need to understand what benefits will be derived from winning awards, before they make the commitment of time and effort to compose an entry. Business Awards can form an integral part of your marketing strategy as they provide numerous benefits. But why is entering awards a good use of your marketing budget? Some awards are free to enter, others have an entry cost or associated commitment such as you must attend the ceremony.
The award entry process itself provides an excellent opportunity to assess where the business currently is, and recent achievements relative to your market peers. It is also important to review how macro and micro business environment challenges have been addressed and overcome. The focus required for the award entry is good business discipline, allowing you to reassess the achievement and priorities for the future.
Awards offer a key way to redefine your business direction, repurpose your targets for the year and bring measurable benefits including increased brand exposure. But don't think there are easy shortcuts – each award entry needs effort to deliver the winning result Think of it as a bespoke marketing campaign in its own right.
The benefits of being shortlisted, announced as a finalist and ultimately winning business awards are immense and can drive measurable commercial benefit. Winning an award can also generate competitive advantage, leverage trust in your business and  boost your team morale. These are all valuable elements to motivate your team and attract dynamic new staff, as well as reinforcing your clients decision to work with you.
So what are the main myths around award entry and how are these addressed?
Is winner is already decided?  This is probably one of the greatest fears – that all the effort will be wasted.  Whilst the loser may mutter "They're a fix" it is true that not all awards are created equal. Check the rules of entry as some depend on votes, attending an expensive ceremony or buying advertising. There are many ethical awards – focus your effort on these. Look for those that have independent judging panels, see who has won in the past, assess the professional status of the website and see if there are recognised sponsors. Being aware of the judging process, the longevity and professionalism of the awards should be a good indicator.
Awards are too much hassle. Yes entry does involve effort to do your business justice, but there are so many benefits to award winning that the reward outweighs the energy commitment! Make a plan to promote and leverage the marketing opportunity. Seize the chance to make a speech, pose for as many photos as you can. You will have the chance to showcase your company and build brand awareness. Leverage your social media channels and those associated with the event – link and share content so other people can help market your business.
Awards are just for show offs. Never mind that – make sure you showcase your company!. Awards status recognition has many advantages – both from your peers that recognise your achievements as well as your team so you can show them you are thankful for their efforts. Leverage your award to spread your message. Send out a 'thank you' to those who have supported you. This is really powerful – not merely revelling in the win, but appreciating everyone who has contributed to the success. How you acknowledge the support sets you apart from your competition – it shows you care. Award winning also helps you to recruit amazing talent. The best people in your industry will want to work for the best business in the industry. You deserved your win – wear your accolade with respectful pride.
Want to create an amazing Award Entry – here are some top tips:
Visualise that Win. Understand why you want to win. Build an Award Calendar that includes the details, due dates, etc. This will make it easier for you to target the ones you want. Once you have built a vivid picture of why you want to win and which awards you are targeting, the process of entry is much smoother as you are engaged in the process.
Define – What do you want to be known for? Pick the most relevant award and category to enter and consider the relevance that the award can have to your business. There are a huge amount of awards out there so identify whether there is a specific category that you want to stand out in. Target the one you really want.
Check – can you answer all the questions? This might sound obvious, but if there are responses that you are not confident in, this will affect the overall likelihood of success. If you are asked to submit a business plan and accounts you will need to be prepared to send them, otherwise you will be denied the points associated with them.
Create your entry offline first. This is a very practical but often missed stage in the entry process.
Before inputting your entry into any online format, be it a form, or an online portal, develop your response offline first. You can edit and get comfortable with the content before making the commitment. This also avoids the disaster of having an internet crash when you are at the end of your entry and you have not saved it. If this happens it is too easy to abandon your entry. Offline creation allows you to finesse the language and make sure you optimise the word count available.
Promote your Unique Selling Point. Every company will be different – you have got to determine what your company USP is – this is the Unique Selling Point that makes you stand out and makes your business memorable and your clients want to select you. This is the content you need to focus on to make your entry impactful.
Evidence is essential  – Award entries give you the opportunity to document your achievements. Evidence is key, get client testimonials to support what you have achieved. If someone outside the business has realised you are good and has been prepared to go on the record to say so, it is far more powerful than if you, as a business, say how good you are.
Tailor Your Entries for Ultimate Success – Each award is likely to be judged individually, so tackle each award independently. Check the entry criteria – do they have a minimum turnover requirement? How long have you been trading? Which area are you based in? Do they want to understand the work you do in the community or supporting apprentices? The entry criteria needs to be evaluated and matched against your individual and company attributes. Tailor both in terms of content and language to match the award category you are entering. To give yourself the best chance of winning, the entry criteria needs to be mirrored and effectively displayed on the entry form.
Make Your Submission Stand Out.  The judges will be reading a lot of award submissions, which often blend into one. It is, therefore, important to make your submission stand out. While it's not always possible to use interesting colours or a lot of imagery, as answers may need to be entered in boxes on the application, you can make your answers stand out through your writing. Add personal anecdotes to make your entry memorable.
Give the judges what they are looking for
Judges will be looking for evidence to back up your claims. They want to see how you lead your industry, and require you to validate your story. They are interested in the challenges faced – so identify how you overcame them. This can include insight from staff about why they enjoy being part of the organisation and activities alongside the day job such as charitable works and community engagement. Always be honest with your entry. Don't lie, make up figures or avoid mentioning something that the general business community will know about you. Being sincere and explaining your challenges is very powerful as it shows you are constantly learning.
Review – has the entry told your story? Award entries give you the opportunity to document your achievements. Tell your story, why did you start? What challenges have you overcome? What have been your greatest achievements to date? Let the judges engage with your business journey. Let the process provide a real authentic insight into your organisation
 Awards Enhance Credibility
An award massively boosts both business and products credibility in the eyes of clients. This independent validation provides a 'badge of approval' which evidences the quality of the products or the services delivered. Awards reinforce Social proof as one of the most influential factors in a consumer's decision-making process.
Entering, being a finalist, and ultimately winning showcase how good you are in your sector and achieve that highly desired independent proof. The benefits of being externally assessed and judged provide excellent future facing credibility.
Awards Boost team morale
Attracting and also essentially keeping the best talent within the business is essential in a competitive market. Winning an award greatest positive team morale and shared emotional connection in the success. Not only do staff get to say they work for an award winning business, they may also attend the award event celebrations as well. Sharing and internalising the success will build more future winning behaviours.
Awards deliver commercial benefit
Winning can deliver tangible and measurable commercial benefit. This can enable price and market share increases, as well as the perceived value in your marketplace of the product or service that you deliver. Most consumers when faced with a choice between an award winner company or one with no awards will naturally choose the award winner, even if they know little else about the organisation. An award win acts as an aid to the buying decision – it is an indicator of business quality and stand out among the competition.
Awards Generate great PR
An award gives you the edge against your competition and validates your work. From getting shortlisted to ultimately winning – the PR opportunities help build your reputation, provide new opportunities, and something to shout about to existing clients.  Awards and the associated ceremonies are also great for networking.
Ready to WIN?
Denise O'Leary shares her proven award-winning process, showing you how to find awards to enter, what evidence to gather and techniques for maximum entry standout. The book explains what judges are looking for, how to maximise PR and award-winning tips, so you can celebrate at the winner's table.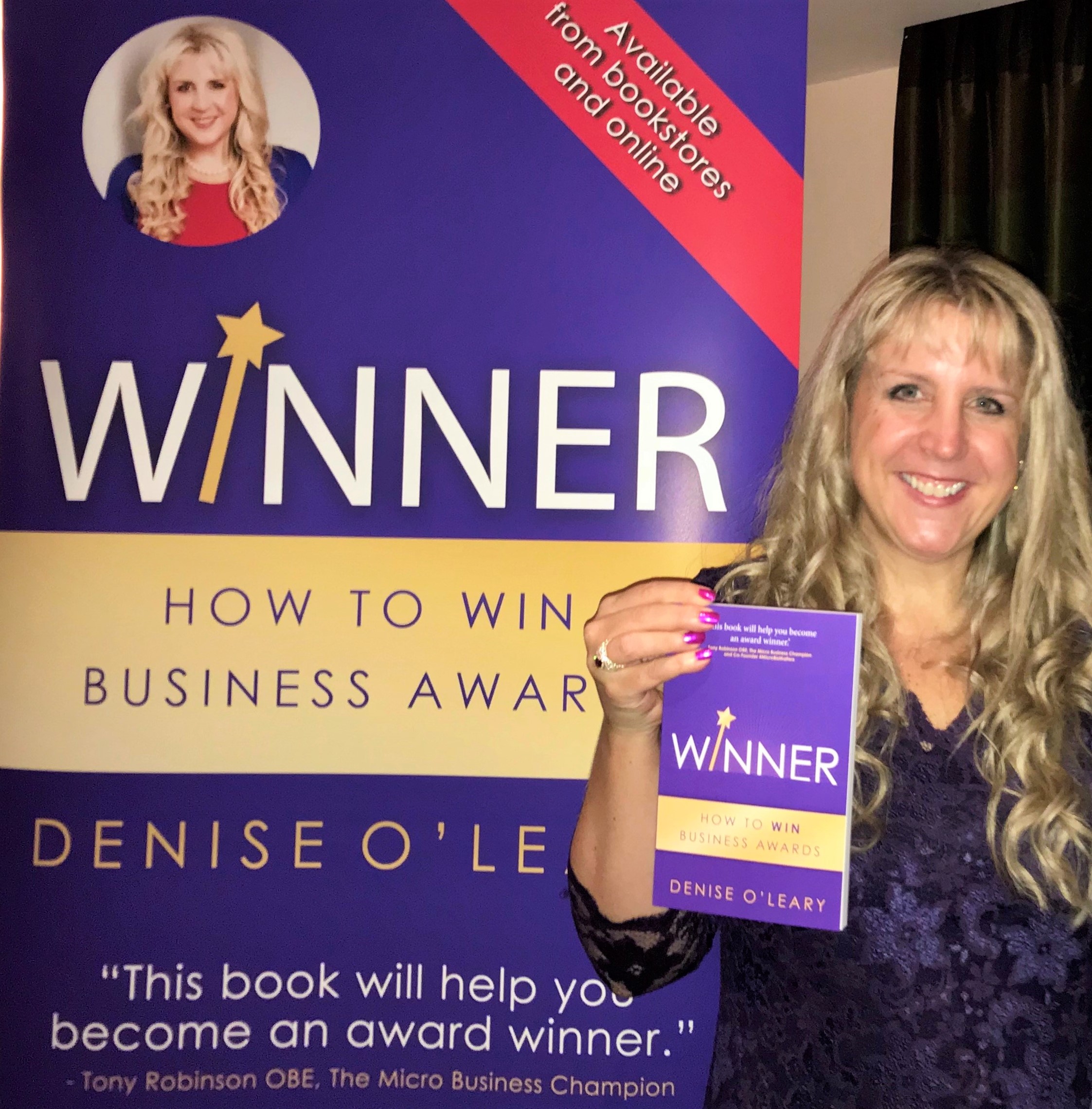 Check out the Amazon No1 Best Seller WINNER – How to Win Business Awards, available on https://www.amazon.co.uk/WINNER-How-Win-Business-Awards/dp/1784529036.