Following the removal of lockdown restrictions, small and medium-sized businesses can look forward to a more prosperous future, particularly if the UK's 'third wave' passes quickly.
Most companies have had it tough during the pandemic, but those smaller in size have had substantial challenges. Many simply didn't have the infrastructures in place to quickly pivot into new product lines or sales channels.
E-commerce is a good case in point. With physical stores closed during the first national lockdown, retailers who already had transactional websites were immediately able to switch their sales strategies and earn revenue through digital streams. Those who didn't were playing catch-up. The good news, however, is that it's never been easier for small firms to make the move to online – a position that's only been exacerbated by the pandemic.
Tricia Stirling, founder and director of fashion business Vanity Fair Scotland, found exactly that. Tricia started the business 15 years ago and now operates four stores across the Bearsden area of Glasgow and in the Argyle town of Helensburgh.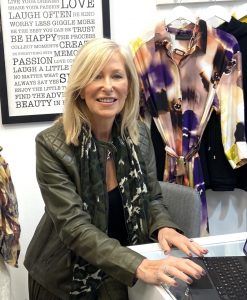 When lockdown struck, Vanity Fair's earnings disappeared. At the time, Tricia had only set-up a website for marketing purposes but, from the 1st September 2020, changed it to be an ecommerce platform, using Barclaycard Payments' Smartpay Checkout as her payments gateway.
From that moment, the business's fortunes changed, and revenue returned – but in a different way. Rather than just serving customers from the area surrounding its stores, Vanity Fair suddenly became a national and an international retailer, with people from all over able to discover and purchase its products.
Thanks to her ecommerce income and flexibility on rent from landlords, Tricia has been able to retain all 10 of her staff through the pandemic. However, the technology solutions she invested in were not just a means for her to survive periods of lockdown: she has also created the foundations from which to thrive in future.
Vanity Fair's website – which Tricia refers to as her 'fifth store' – still accounts for around 10 per cent of turnover, even though all of its physical locations are now open and trading again. Not only that, but Tricia has refocused one of her team's roles to be devoted to managing the site.
To build on this, Tricia plans to invest in upskilling her team in data analytics over the coming months so she can harness insights from her ecommerce platform and produce personalised customer marketing, as well as spending more on targeted ads across social media platforms.
Tricia's story is familiar among the many SMEs we speak to at Barclaycard Payments. Once company leaders invest in one piece of technology, they realise that it can help to unlock growth opportunities and begin thinking about what their next step will be.
In fact, results from our recent Small Business Barometer show that 37% of SMEs are planning to invest in new technology over the next year, as businesses look to bounce back from the pandemic. Based on that insight, we have produced three top tips for selecting the best tech solutions for your business. They are:
1. Choose specialists with a strong track record
Research is key. Spend time talking with contacts in the industry and reading trade media to understand which technology providers specialise in your particular vertical sector. The company you choose should 'get' what it's like to be a small business in your industry.
2. Prioritise integration
Technology in isolation can only take you so far. A modern business needs different solutions that integrate with, and complement, each other. That's why, at Barclaycard Payments, we ensure our products and services can work in tandem with others – for example, we have partnerships with invoicing and accounting software such as FreshBooks, and ecommerce platforms such as BigCommerce.
3. Think about the long-term
As we've seen during the pandemic, the right technology solutions can keep small businesses afloat when times are challenging. However, our advice is to not only buy for today, but also for tomorrow. Think about the technology you might need in three, five or even ten years' time, and get the building blocks in place for the next phase of your growth.
For more information about how Barclaycard Payments' products and services can help your company to grow, visit www.barclaycard.co.uk/business
By Konrad Kelling, Managing Director: Small Business Payments, Barclaycard Payments