When I was asked to interview Shalini Khemka CBE, I have to admit I'd not heard of her or her organisation – now I wonder how and why?
This unassuming yet driven business woman has made it her mission to bring together influential people to collaborate and work together for the good of the UK economy. She has the ear of decision makers and she takes action – frankly not taking 'no' for an answer.
The one thing I learned about her in the brief hour we spent in each other's company is that Shalini does not give up.
Tell Me About Your Childhood?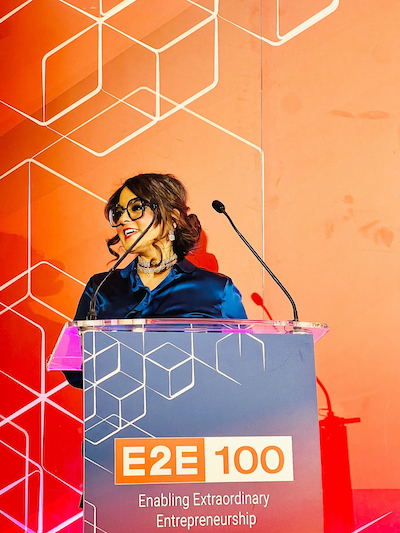 I was born in India, however I've been brought up in the UK and my mother actually recently launched her book 'India made me Britain enabled me' and I think that the title of her book applies to a lot of us Indians, including myself, who came over to the UK allowing people such as my family to build our lives here. So, when my parents arrived, in around 1978/1979 and we came with just £3.  My father's an orthopaedic surgeon, so my parents worked extremely hard to build a life here for me and my brothers.
There was an emphasis on a strong education and I did my GCSEs, my A-levels. My family were keen for me to be a doctor or a dentist and that's the path I was going to take. But something happened in my mind during the summer before my A level results came out. I decided that actually I wanted to be in business and I wanted to do something that was more international rather than medical, which was a personal choice for me, so I ended up studying economics. I enjoyed three happy years at the University of Essex.
What Happened After University?
I worked in a number of different financial institutions and accountancy firms. I started my career at Coopers and Lybrand (now PwC).
I worked for Bankers Trust, which became Deutsche Bank and whilst I was specialising in financial institutions, I chose a career in international trade finance. At that time this was done very much through bankers travelling around the world meeting each other over expensive lunches and dinners, to do trade deals.
And I was looking at this thinking, why is it not done online? Bonds were traded online, equities were traded online but not trade finance assets. So, I wrote a business plan to launch a trade finance business and I tried to pitch it but I was unlucky, it wasn't successful.
I then had the opportunity to work with some of my colleagues setting up the world's first trade finance platform. That was quite a big decision for me because I was leaving a well-paid job and a career and a big brand name to start a small business and be one of four co-founders.
How Did That Risky Move Pan Out?
This was when the ".com" bubble was happening. I was watching people like Brent Hoberman with Lastminute.com and other great businesses, and I was thinking I'd actually like to see if I can have a go at doing something myself.
So, there was a lot of inspiration around me and we launched a company offering a very simple trading platform for banks to sell trade finance risk to each other.
We were doing extremely well in 2000 to 2002 and we had a lot of banks sign up to use our technology and my role was to really sell the technology across the world. We had about 360 banks using the technology, but then we went through a difficult period.
We went through a patch where some of the bigger banks decided not to use the technology because we were increasing competition. So we started to think about what should we do because we realised we were ahead of our time and the trade finance industry weren't ready for this – the mindset wasn't there. We decided to do an early exit.
What Happened Then?
While this exit process was happening, I got invited by Lloyds Banking Group to come and help them build their 'vanilla' trade finance platform. It was the first time that someone had invited me to work for them.
Usually, I was putting myself forward and saying, what do you think about taking me on?
Almost overnight, I went from being an entrepreneur back into the corporate world. Yet it took a long time to make change in larger organisations, it's just the nature of larger organisations. I was there running trade finance for just under five years and I think I did my best at it.
We built our international footprint again. We started doing a lot more trade finance, but ultimately I wanted to go back into something entrepreneurial.
How Did You Achieve That?
I was very fortunate because one of the people who was mentoring me, was a man called Truett Tate. He suggested to me that I should try private equity because it's about backing entrepreneurs.
It's working more closely with entrepreneurs and Lloyds had a division which still runs very strong so I decided to take a role within LDC as an investment director and it's there that I finally understood what I should have done differently with my first business.  This set the scene for my later purpose and passion.
What Is That Passion?
My purpose, the legacy that I want to leave in life is adding value to business and adding value to entrepreneurs in particular. I feel entrepreneurs have a tough journey and as a result of that, I've been privileged that I've been able to set up an organisation that's called E2E for short. I set it up 12 years ago to support entrepreneurs and it's going very well.
What Steps Did You Take To Turn That Purpose Into A Reality?
I started to formulate a plan in my head around setting up my own organisation to help other entrepreneurs increase their learning. I asked LDC whether I could do this part time.
The CEO of Lloyd Development Capital (LDC) at that time was Darryl Eales who is now the chairman of my current business. And he was very, very supportive. He allowed me to use my weekends and evenings to set up another organisation, which was then a non-for-profit organisation to help entrepreneurs.
During this time I was also working on something called the Virgin Racing deal with LDC. So, I had the opportunity of spending a few days with Sir Richard Branson and his team at the Monaco Grand Prix in 2011 and I used the opportunity there to ask him whether he would join the board or become the President of my organisation that hadn't yet launched – E2E.
After several attempts to reach him, Richard agreed to be the president of E2E and it was wonderful because I'd already secured some amazing people to join our board. Today Darryl is on the Board as well as Peter Roberts, founder and former CEO of PureGym. We also have a wonderful team of advisers to support us.
Over time E2E became so busy and big that I ended up leaving LDC and LDC kindly gave me the funding to run my own company and become a partner of my business.
What Are You Doing Today?
I continue to run E2E and I'm grateful to have the support of my wonderful team. I've myself sat on various different boards. I've had the privilege of working with London Mayor Sadiq Khan. I've been, I think this is, the 6th year working with him on his Advisory Board. I'm on the investments committee of something called the Be Kind Fund run by Globant. Globant is a technology business started in Brazil and growing quite quickly, they sponsor a lot of football. So, they've set up a very interesting fund. So, I'm on the investment committee of the Be Kind Fund and I've just recently joined Roger Wade on the Board of his fund called BoxFund.
In Your Mind – What Is An 'Entrepreneur'?
An entrepreneur is somebody who's building their own business, an entrepreneur is taking the risk to start a company or to buy a company that they're building.
I also think you have to have a good purpose. You know, what are you trying to do? How are you making a difference? What is the end goal? And you know how are you affecting people's lives every single day?
Do You Think It's More Difficult For Women To Get Funding?
I think there is a serious problem still. I think less than 2% of women globally get funding, so the numbers speak for themselves. Women find it difficult to get funding, and I think there's an unconscious bias. There's an unconscious bias in terms of when people are seeking to invest in these companies, they may not be completely aware of this unconscious bias.
I have to say not enough women ask for funding, and that's also part of the numbers that we are probably a little bit more cautious and we need to change that in women and itself. But we also need to deal with these unconscious biases that sits at investment committees both with men and women.
What Are Your Top Tips For A Business Owner Or Would-Be Business Owner?
Firstly to have a purpose and secondly, cash is king! Keeping a very close eye on the numbers is absolutely critical. We've unfortunately seen a lot of companies suffer during COVID because they didn't have enough runway, so a success for me is also managing your cash flow very carefully.
Also, having a happy team because we can't do everything ourselves. We need a team around us.
Is There Such A Thing As Money Mindset?
Yes, we can be funny about money.  I think it's important in business that you're always bringing in more money than you spend – as in life.
I don't think every entrepreneur needs to have a plan for exit. People have very good lifestyle businesses as long as they're managing the cash carefully.  We're not all built to sell companies. You know, let's not overrate the exit.
Who Inspired You When You Look Back At Your Life So Far?
I absorbed it obviously from both my parents, although my father's a surgeon, he had to be very entrepreneurial to come to a new country without anything and to you know, build a lifestyle which enabled my brothers and I to live a decent life. And so, the first learning was probably from my dad. But thereafter, it's been very much my mother, because once I was a little bit older, she started doing her A levels and her degree.
She started as a supply teacher and worked her way up to run the largest tertiary college in the UK. And then she was the first Indian woman to be made a Dame in 80 years – Dame Asha Khemka.
I've also been very fortunate that I've been surrounded by really, really, good people. From school teachers to university professors to when I set up my own company. I said very recently in a speech that I was giving that "we become who we surround ourselves by" and I feel lucky that I'm surrounded by some amazing people, and it's been a consistent theme throughout my life.
Life is a tapestry of experiences, and I've got a long way to go yet!
How Important Is A Network?
Connections are important and you have nothing to lose by asking. So first, I think it's don't be afraid to get 'nos'. You're going to get 'nos' all the time but try and convert that 'no' into a small 'yes'.
And That Small 'Yes' If You Do A Good Job Becomes A Bigger 'Yes'.
That was the way it happened with some of my Board directors. They are very busy people and it's difficult to be heard or seen.  I've found it's best to make a small ask. This might be – can I use their name? Will they come to set number of board meetings, if it's not too many?
And then as they got more involved and started to enjoy it, they get more and more supportive. So, a lot of people are going to say no, but if you keep persisting somebody will say yes.
I think doing your research and being very clear on the 'ask'. So, every time you go to a meeting, it is understanding what is the purpose of that meeting? Prior, who you talking to? What drives them? See if you can add some value to them. It becomes less business conversation, a bit more about who they are.
I think that's part of why I enjoy connecting people. So learning about them and working out who to connect people to because of their history, maybe that they're running a business in health tech, but they're really passionate about golf or swimming or whatever.
Tell Us About E2e?
It's long name is Entrepreneur 2 Entrepreneur Exchange. But we call it E2E for short.
Our purpose is really to make sure that every entrepreneur that's within our community is successful and that success is defined by them but our purpose is to add enough value to help them to become successful.
It's all about enabling extraordinary entrepreneurship. We've created an ecosystem firstly where founders can meet founders or business owners can meet business owners and we run roughly 40 events a year for people to meet physically.
This is primarily in the UK, we do most of our events in London, but we're also doing them in Birmingham and other parts of the country.
Then other pillars of the business include access to finance and we help founders looking to raise anything between half a million to £50 million, get connected to family offices, venture capital, high-net worth individuals and ultra-high net worth individuals.
We also help founders to meet the right non-execs. We have built partnerships with large corporate organisations, so a lot of people want to do corporate venturing, so we work with companies such as Cisco, Amazon, UBS, Ross Charles, we've recently signed up a partnership with a company called Universal Partners for Foreign Exchange.
We are now a business and we currently have about 24,000 members, we're aiming for 100,000 over the next five years.
How Do You Sit Among Other Organisations Such As The Fsb For Example?
I give credit to all these organisations like the Federation of small businesses have done a great job, but I think where E2E sits at the moment is we are more around the scale up.
Ours tend to be businesses with a turnover of between £1,000,000 to a few billion and our sweet spot is £10 to £50 million turnover businesses. But it's not to say that younger businesses don't join us or more mature. But as a voice for entrepreneurship, we are more of a voice for scale up entrepreneurship.
Finally What About Your Cbe?  
I was very fortunate to receive the CBE last January (2022) this was the penultimate one before the Queen passed. So, it was very nice to receive that and that's for services to entrepreneurship.
My parents were just over the moon. My mother and my father were just absolutely delighted. So, it's it is a huge privilege, isn't it, to be recognised in that way? And I'm very proud. I was lucky because Prince William actually gave me my CBE at Windsor Castle in Decemer 2022 and it was a privilege to have the future King give me my award.
Find out more about Shalini and her organisation here – https://www.e2exchange.com