When I first met Jordan Franklin, a very youthful 37 year old, he was quiet, he observed and then he acted – like a whirlwind.
This was how he came across to me when I visited the premises of one of the South West businesses where he has invested his own cash.
For full transparency I met him with the team at Greendown Shepherd Huts, based at Zeal Green Business Park, Keynsham near Bristol when doing some consultancy work for them.
The Greendown team handcraft luxury shepherd huts and are working hard on building their brand and profile across the UK, making themselves visible in the world of hospitality, holidays, outdoor living, glamping and diversity in farming and agriculture.
Lockdown was good for this business as people started to explore more staycations and were actively looking for safe experiences closer to home.
Jordan arrived, observed, was patient and then shared his own story with me. It was – and is – worth sharing.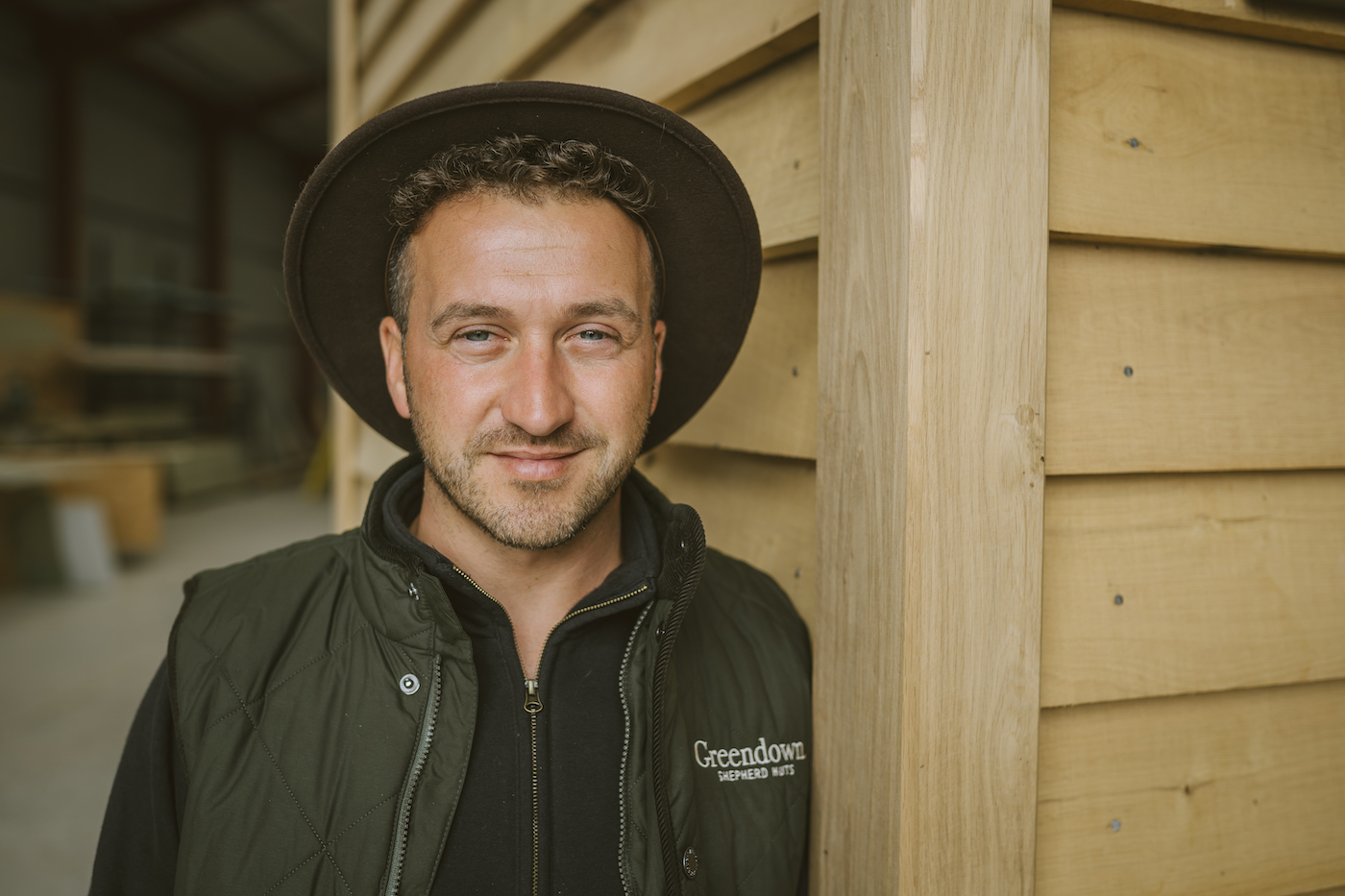 It will inspire anyone who found school difficult, didn't know what they wanted to do with their lives and struggled to find their place in the world. Jordan didn't do well at school, didn't go to university and wasn't quite sure where he was heading during his teenage years.
Then he found his passion – he was good at selling and dealing with people.
Meet Jordan Franklin, director of Greendown Shepherd Huts, property developer, serial entrepreneur, who lives near Bath with his partner Phoebe.
HOW DO YOU DESCRIBE YOURSELF TO OTHERS?
I say I have an interest in a couple of properties, a couple of businesses, one being property and the other a company that builds shepherd huts. With the latter, I'd followed the journey with the MD Harry Long as he's my brother-in-law. I watched him start the company and sort of kept tabs on it as it was progressing. And then when I sold my van business, I wanted to buy a shepherd hut for my garden to rent it out. And when I spoke to Harry, he said 'we can't build you one for six months. I asked 'Why don't you just build them quicker if you've got that many customers?' He talked about cashflow, not having bigger premises, logistics and skilled people and I realised I could help him build the business – and I wanted to help. The shepherd huts are luxurious, made with great care and, for me, they sold themselves. We just needed the right infrastructure.
HOW WOULD YOU DESCRIBE YOUR BUSINESS 'STYLE'?
I think my team and my partner might describe me as a whirlwind, I come in with a million things going on and then leave with a trail of mess. Which probably is right! I am very ambitious, a risk taker. I often say 'yes' to a problem, so if I get offered a property, I don't always think about how I'm going to pay I just say 'yes' and I work it out after. I'm pretty outgoing and I love meeting people. I wasn't very academic when I was younger and didn't really like learning yet as I've got older, I've really enjoyed learning from people. I realise that I'm hungry to learn, however the academic way of learning just wasn't for me.
WHAT WAS THE BUSINESS YOU SOLD FOR OVER £6 MILLION?
I started with vans. I was working with my father buying and selling cars as he's always had his own business. I was kind of working for him and I ended up buying a couple of vans just to earn some extra money on the side because it wouldn't clash with his business.
I sold them from my mother's driveway and I was good at it. I'd started with two vans and then over time and with help grew it into one of the biggest online van retailers in the UK – Vans 365. We were the first van retailer to offer free next day delivery – that was my idea.
Then in 2022 I was made an offer by Cazoo Holdings – four days after they floated on the stock market. They wanted to acquire the business and I took their offer and stepped away from the business. That deal completed in December 2021.
WHAT STEPS DID YOU TAKE TO BUILD YOUR VAN BUSINESS?
A turning point for Vans 365 was when I employed a consultant, Laurence Winmill. I employed two actually and a financial consultant who understood automotive finance.  I always knew what I wanted to do, and I had targets in my head, but I didn't really know how to get there. I couldn't plot the steps.
In the early days if someone had said "Jordan, you're going to be paying two business consultants, £100s every week to come and tell you how to run your business. I would have said not a chance'. Yet once I invested, I could see the results.
All these things that were keeping me up at the night because I hadn't done them, began to ease. The whole journey started to get mapped out and hadn't realised how important that map was to achieve success. I could then continue with innovating and focussing on the things that I wanted to do and I had good people to do the other tasks which were crucial – yet they were better at those tasks than me.
YOU'VE MADE A LOT OF MONEY – IS THIS WHAT DRIVES YOU?
My absolute drive is not so much the material things, it's more a sense of achievement. Don't get me wrong, I like the cars and the trimmings and everything that comes with being successful. Yet what stimulates me is putting effort into something and then making it work.
When I sold my last business, I knew I had a business with a worth attached to it yet  the deal I got was amazing and I was very fortunate. For me it was more about validation and the sense of achievement and almost a bit of recognition, I guess and a bit of pride.
WHAT MAKES A SUCCESSFUL BUSINESS?
I think you must do your research. You have to look at what the best company out there is doing and do it better, what extra element can you offer? And I think it's important that you put in the hours, and you work hard.
When I was first starting, I was working every weekend. I'd work till 9pm and I had mates at 9:00 to 5:00 jobs and they would go to the pub, and I'd go and meet them in the pub, and they've been there for hours. I think putting in those extra hours is worth it if you enjoy what you do. While I didn't always enjoy working long hours I always wanted to do better.
I think it is also very important to surround yourself with the right people and be willing to learn. Success doesn't mean I know everything.
WHO INSPIRED YOU TO RUN YOUR OWN BUSINESS?
Many people have inspired me however I do have to look to my father in many ways. He influenced more than I realised. My father was always a stern businessman and I was taught the discipline of money, quite young. I remember once we pulled up to a petrol station and my dad was on the phone chatting, and he said, 'can you fill the van?' I jumped out, I filled the van up, he gave me some money. I paid yet as we got down the road, the van started chugging, smoking. And he said to whoever he was talking to 'I'll call you back'. It transpired I put petrol in his diesel van, and he made me pay for the repair.
It was about £480 and I was 16 at this time and that was all of my savings, a lot of money and he said 'you will never put the wrong fuel in a vehicle again' and I've never put the wrong fuel in a vehicle again.
WOULD YOU DO THAT TO YOUR CHILD?
No, I don't think I could. I would love to because there was nothing wrong with it. At the time. I hated him because I think I had about £600 in savings that I'd been saving for like God knows how long. Probably over a year and I thought it was really harsh. Yet it was my problem and I had to fix it. It absolutely did not do me any harm whatsoever and it taught me taught me a lesson I've never forgotten. Actions have consequences and you are responsible for your actions.
AFTER YOU SOLD UP, DID YOU SPEND ALL DAY ON THE GOLF COURSE?
Well, I told myself I was going to have three months off and not do anything, and it lasted about three weeks and then I got bored!
I started doing my girlfriend's head in because I was literally didn't know what to do with myself.
I did some things you might expect – buy a few cars, went on a few holidays, bought a few houses and some shepherd huts.
I quickly jumped into Greendown Shepherd Huts officially by the 1st of February, less than well three months from the time the business deal completed.
WHAT MAKES THESE SHEPHERD HUTS SPECIAL?
Our tagline is luxury outdoor living spaces. Shepherd huts have come a long way especially within the last ten years. People don't want to stay in the urban traditional setting so much and shepherd huts offer a great alternative. In the past a shepherd hut was generally thought of as a hut in a field and now it's seen as a luxurious extension to a hotel room or a luxury addition to a glamping site, boutique hotel or wedding venue.
WHY MIGHT THESE TYPES OF BUSINESS CONSIDER INVESTING IN A SHEPHERD HUT?
Often it fits with the existing ambiance adding something different or it may be that a hospitality venue is at capacity and cannot get planning permission to extend or cannot afford that type of capital project. Often shepherd huts don't need planning permission so they can be a great extension. We've just supplied huts to a wildlife park and a golf club, for example.
IF I HAD LAND FOR A SHEPHERD HUT TO ENHANCE MY BUSINESS, WHAT'S THE PROCESS?
You'd give us some details on your land, do you have planning permission, do you require planning permission? How many huts are you looking for? Have you got any current holiday let offerings at the moment? Then ideally arrange for you to come to our site if that's practical as we have a beautiful display area with four or five huts on site and you can see them being built. If you wanted to go ahead, we would take a £1000 build slot deposit. At that point we come to do site visit to check the location and advise on services and which design works best in that location. It matters where the windows are placed for example.  That's the way the relationship begins.
We are also offering something no other shepherd hut manufacturer is offering – the option to lease a hut. It's for business users only and terms and conditions apply as we want to make sure that it's going out to the right venues and the right people. You would come to us as same as normal, you'd leave a deposit, we do a site visit. They start from a £5000 deposit and from £998 a month. We offer a five-year term and at the end of the term there's an option for the end user to purchase it, extend the lease or hand it back.
CAN A LUXURY SHEPHERD HUT BE OFFGRID?
Absolutely, we've got an off-grid site that we're setting up now close to the city of Bath. There will be two huts on this site and customers can come and visit it to see how it all works and understand from challenges that can arise in setting up an off-grid site. We want to prove our model works by completely demonstrating that to any potential buyer.
WHAT DOES 2024 HOLD FOR YOU?
For me, a big focus will be on Greendown Shepherd Huts. We are one of the largest producers of shepherd huts in the UK. We've got ambitious plans. We've extended the workshop. We need to extend it again. We're continually recruiting staff.
In my mind I also see the best sales person I ever had in my previous business – we will be needing team members like her. In my van business, my highest paid employee was a 20-year-old girl in sales called Abby. She started with me when she was 17 and grew up through the business – she was driven and committed.
She worked hard for it, so I was proud. I think a lot of businesses underestimate taking risks with young people – and in that sector with girls in particular – yet putting the effort in the effort paid off for her – and for me.
One of my goals for Greendown is to find another 'Abby' or two and recruit more female staff to improve the gender balance.
We're also continually looking at how we can be more sustainable. And we want to be known as the manufacturer of the best value, highest quality, shepherd hut money can buy. And who knows what other opportunities may come along in the coming year?
By feature writer Fiona Scott