In a new study, Bionic wanted to find out what small businesses can do to build lasting customer connections, after finding out which british brands have the greatest level of brand loyalty.
61% of retail companies see customer retention as their biggest challenge, according to Invesp. But as online searches for "how to improve customer loyalty" are up 27% YoY, business owners recognise the growing importance of fostering strong customer relationships in today's competitive marketplace.
British brand loyalty, ranked
| | | |
| --- | --- | --- |
| Ranking | Brand | Index Score |
| 1 | John Lewis | 69% |
| 2 | Waitrose | 64% |
| 3 | Brewdog | 59% |
| 4 | Tesco | 56% |
| 5 | Argos | 56% |
John Lewis ranked as the brand Brits are most loyal to
John Lewis tops the UK rankings thanks to a huge variety of high-quality products and excellent customer service

John Lewis' loyalty scheme, 'My John Lewis', has seen a 26% increase in online searches since 2022 and plays a huge role in their high brand loyalty.

The My John Lewis card offers personalised offers, launches and exclusive events.

John Lewis states that their card holders shop 2.5 times more than non-member customers.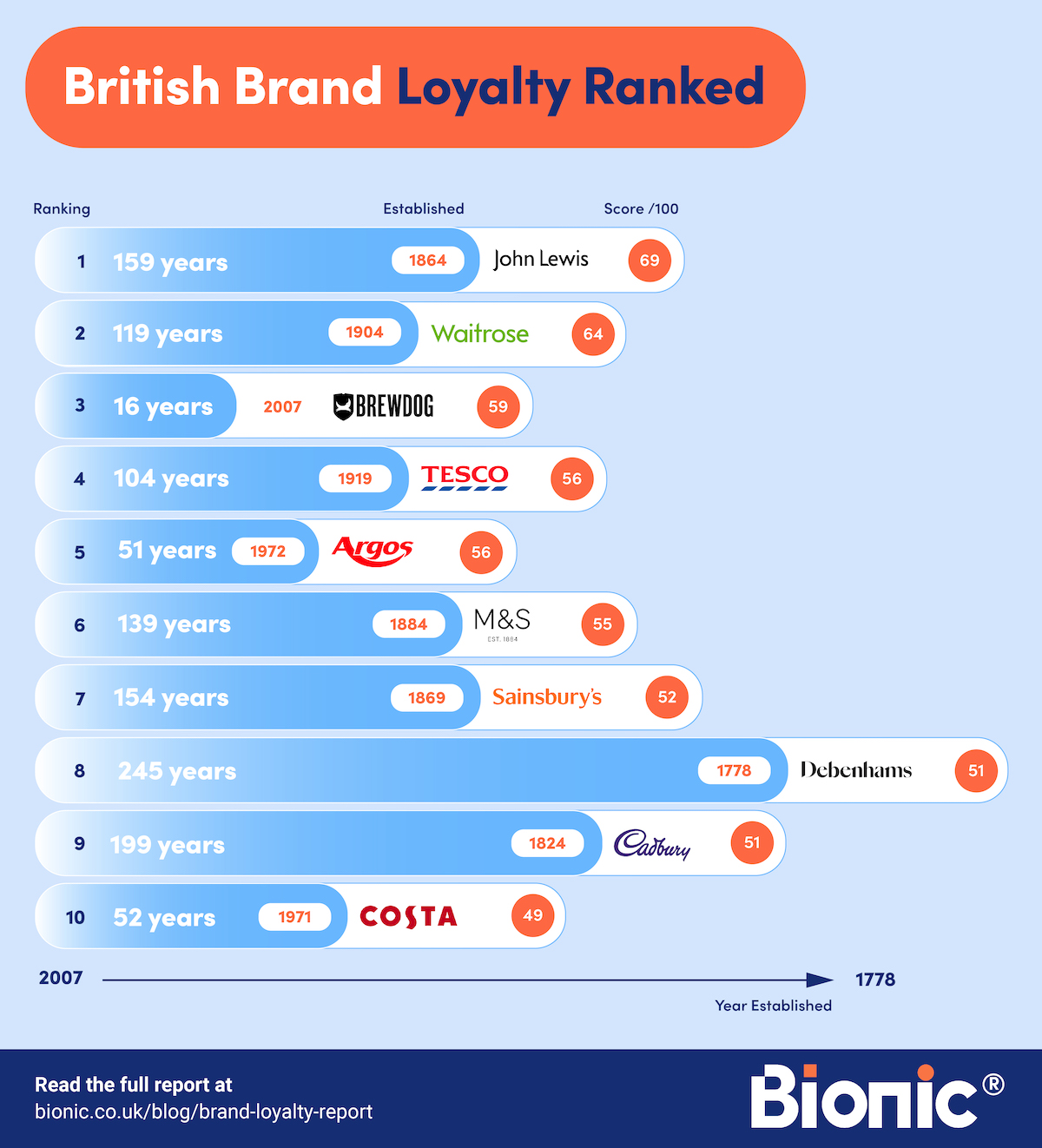 Here is what small business owners can learn from John Lewis
Loyalty reward schemes, like the 'My John Lewis' card are a great way to build customer retention, especially during an economic crisis. In such challenging times, customers may contemplate switching from their preferred purchases to more cost-effective alternatives or seeking rewards and recognition for their spending.
Small businesses can effectively integrate these strategies into their shopping experiences, even on a more modest scale. For example, providing customers with a loyalty stamp card, giving the opportunity to add a stamp with each purchase and an enticing incentive waiting for them upon reaching their fifth purchase, such as a free treatment or discount.
4 tips on how small business owners can improve customer loyalty – from a marketing expert perspective
Speaking exclusively to Bionic, Ari McDaniel, Cult Marketing Expert, shares some techniques all business owners can use to increase brand loyalty.
Provide Exclusive Access – "Everyone wants to feel important and special. Provide exclusive access to events, products, or even discounts to repeat customers. This will naturally strengthen the relations between the brand and customers and will lead to new customer interest. Focus on creating an unforgettable customer experience."
Master Mindful Storytelling in all Branding – "Through branding, you must understand the psychological purchase motivators for your target audience. After assessing what will create an emotional response – you can then conceive a branding strategy and story that will inspire an emotional connection. After all, every brand has a story to tell and it's important to strategize the best way to tell it."
Entice Consumers to Spend Time with Your Products/Services Through Urgency – "Psychologically, campaigns that offer limited-time items create additional excitement and build loyalty. Find innovative ways to capitalise off the initial fear of losing out. For example: announcing low stock warnings and using special occasions to increase urgency and encourage new/inactive customers to return."
Keep Community at the Heart of Everything – "Don't underestimate the need for all humans to feel like they 'belong'. On the road to building brand loyalty, find ways to create a community within your brand. Develop and empower your audience to connect with one another on and off-line at events, private groups, newsletters, or even brand-specific hashtags. You shouldn't just have followers but a community that is an extension of your brand's values."
Business expert reveals how you can improve customer loyalty without any costs
Glyn Britton, Chief Customer Officer from Bionic comments on how small business owners can gain the edge by offering a more personalised service to customers:
"Price and convenience can obviously keep customers coming back, but one advantage your micro businesses might have over bigger brands is the personality of its people, both on the shop floor and behind the scenes. We're all programmed to be loyal to other people ahead of faceless operation, so if you can build meaningful relationships with your customers and they like you on a personal level, you may already have an edge over the competition."
Bionic is a comparison service for business and link the the full report can be found here: Brand Loyalty Report