Small business sales suggest a gradual return to pre-COVID sales rates, the Small Business Index from Xero, reveals. The Index was unchanged at 86 points in May, reflecting that overall conditions in small businesses were steady despite the winding back of some business trading restrictions.
The sub-metrics of the Index showed that while sales have increased year-on-year (y/y) since March, they grew by just 2.5% y/y in May, compared to 4.5% y/y in April (Note: these growth figures are adjusted using annualised two-year growth to account for the low results in May 2020). This is in spite of indoor hospitality restrictions lifting mid-month, according to the Index which is produced in partnership with Accenture and based on analysis of the records of hundreds of thousands of small businesses.
Across sectors, the data suggested that hospitality and arts and recreation remain the most heavily affected by continued restrictions, with -12.5% y/y and -9.7% y/y growth in May respectively, after adjusting for low 2020 results.  While this is the most positive reading since August 2020 for hospitality, it indicates a slow sales rebound while jobs in the hospitality sector remain at -21.4% y/y.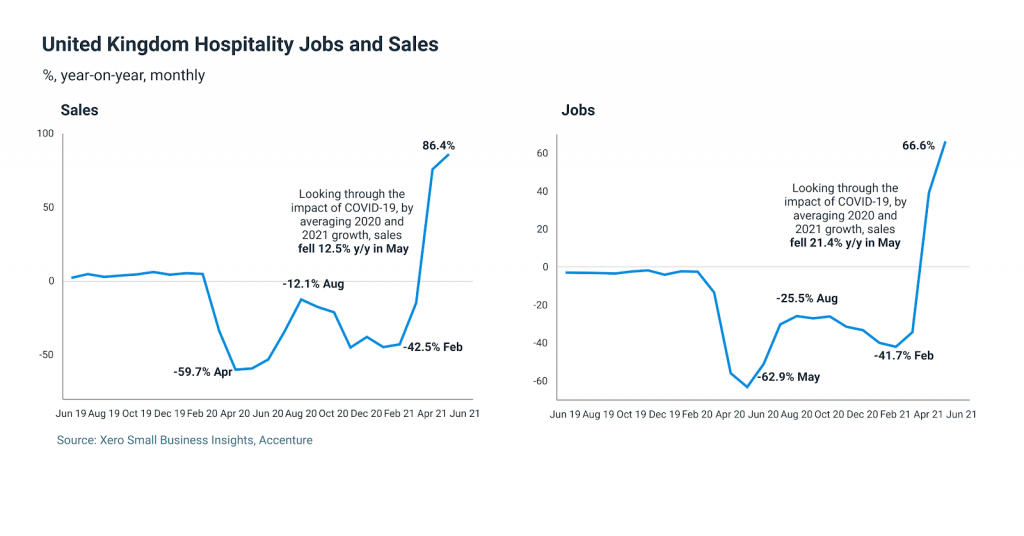 These figures are in contrast to sales in retail, which reported a healthy growth of 8.8% y/y, and the information media and telecommunications sector which grew by 7.9% y/y.
The data found that jobs within small businesses fell 2.8% in the year to May 2021, which is a slight improvement on April which experienced a fall of 3.7% y/y. This recent improvement is in line with UK Government data which shows the number of people receiving furlough has fallen from 4.9 million at the start of February, to 3.4 million at the end of April – two weeks after business restrictions began to ease.
While the average time for small businesses to be paid remained largely unchanged in May at 29.4 days, there was a deterioration in the measure that tracks the average number of days late that invoices are paid. This was found to be an average of 7.5 days late in May, compared to 6.5 days in April.
Gary Turner, Xero's Managing Director, UK commented:
"Small firms have still got a fair way to go to get back to 2019 growth, but this data shows that recovery is underway. The vaccine roll-out is paying a dividend, particularly for hospitality, and we expect this to strengthen and boost growth in the second half of year. We do have to be cautious in our optimism should more restrictions be enforced in the colder months, but as things stand the outlook is positive."
Xero has identified the key areas needing more support to help small firms to rebuild. The Road to Small Business Recovery includes recommendations on technology access and the creation of a growth economy to help small firms in their recovery. You can read this manifesto here.
More information on the May metrics is available at www.xero.com