According to Capterra, some 32% of SME's still rely on the capture, storage and tracking of vital customer data and interactions in spreadsheets, with a further 20% via email platforms and 15% using manual methods.  
These data management practices are certainly reflected in the conversations we have with our prospects and new customers.  They are increasingly frustrated with their existing solutions are seeking better ways to manage their customer information and interactions but, as Capterra also observes, many are still reluctant to invest in CRM.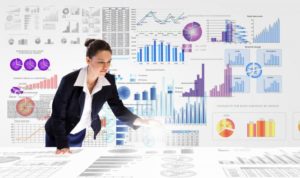 In this blog we look at the value data can bring to a business, the limitations of relying on manual methods, as well as the benefits of better data management with CRM.
Short-Changing Your Business!
Data-driven organisations are outdoing their competition, are 23 times more likely to acquire customers, 6 times as likely to retain customers, and 19 times as likely to be profitable as a result (McKinsey Global Institute).
These powerful statistics emphasise the importance of data to any organisation and the potential value that it adds across all functions of a business from marketing, through to sales, customer service and finance. Data-driven organisations are committed to:
Increasing knowledge, insight and understanding
Delivering better informed decision making and actions
Cultivating organisation collaboration, agility and responsiveness
Increasing business efficiencies, productivity and effectiveness
Ensuring business consistency and securing information succession
Investing and growing their database as a valuable business asset.
With the rapid development of new technologies and increasing use of the internet and social media, customer behaviours continue to change with focus on customer experience and personalisation becoming ever more critical in the B2B environment.
According to a study by Walker 'Customer experience is set to overtake price and product as the key brand differentiator by the end of 2020'. A further update suggested 'B2B customer expectations for a personalised experience will jump to a staggering 88% in 2020 from 31% stated in 2017'.
This means knowing who your customers are, is no longer enough. Proper strategies, use and management of your data can help deliver deeper insight and understanding of your customers including:
Demographic breakdowns
Buyer needs, expectations and behaviours
Lead sources and channels frequented
Content consumed and downloaded
Interactions and conversion rates
Experience feedback and satisfaction rates
CLV (Customer Lifetime Value)
This will help deliver better audience profiling and targeting, more effective marketing, increased lead generation, sales opportunities and wins as well as improved customer experience and retention.
So why do so many businesses still struggle to give priority to the management, storage and use of their business and customer data?
Understandably many will be focused on other issues such as brand building, lead generation, winning and closing sales, with customer communications and activity simply and habitually recorded within email platforms, spreadsheets and manual methods without thought to future use.
This may initially work for a start-up but once your business and team grow, the subsequent increase in prospect and customer interactions, makes keeping up-to-date records more important to store, track and share.
Poor data management practices will result in disparate or duplicate data being held in data silos by different teams or individuals within your organisation. This lack of data sharing can be the source of huge inefficiencies within any business and cause any number of problems including:
Duplication of Effort: Without visibility to a shared database, teams may end up individually replicating datasets, creating unnecessary duplicate work and effort.
Dirty Data: Sustaining clean, up-to-date and accurate customer data becomes impossible to achieve across disparate datasets, the result being individuals or teams making decisions based on incorrect or inconsistent information.
Data Analysis Issues: With data stored in different places and formats, undertaking any kind of data analysis can be problematic. Collating and making data consistent within one platform will be arduous and time consuming but required before any meaningful insights can be garnered. Individuals may also hold vital information, which may be unknown or potentially of greater value to the wider business and may even be lost when the data owner leaves the business.
Data Access Issues: Not having easy access to one centralised database can substantially impact productivity, customer interactions and the resultant customer experience.
Security Issues: With ever heightening data security risks and breaches, it is critical for businesses to get a handle on their data management and demonstrate adherence to tightening data protection legislation. This includes all aspects of data management from capture, storage, authentication, privacy, accountability, accuracy, updating, archiving, use and sharing. Continued poor practice puts the business at high risk, with potential for data to be lost, compromised or even hijacked for ransom, which in some circumstances, may result in business operations failing.
Lack of good data management practices will impact negatively on your team's confidence, morale, productivity and performance and foster a culture of siloed working and deficient team collaboration, severely restricting business growth and success.
Challenging Your Status Quo!
Resolving entrenched behaviours and practices and moving forward with a more cohesive approach to data management can seem daunting, especially given the sources, types and amount of data that you may already hold within disparate systems. But delaying it will only exasperate the problems you are already experiencing.
So, where do you start?
Educate and train your team on the value of good data management
Undertake a data audit to identify existing data capture, storage and use plus gaps in required information
Create a single, accessible, secure, comprehensive database for your whole business!
CRM – Your New Super-Duper Database!
Reading the above, hopefully you are convinced that capturing, storing and tracking your vital customer data within email platforms, spreadsheets and manual methods is no longer serving your business well.
You are now ready to centralise and create a single, accessible, secure, comprehensive database for your whole business and generate opportunities for achieving sustainable growth and success.  But how do you achieve this?
The simple answer is to implement a Customer Relationship Management (CRM) solution. And if you are feeling reluctant to make the move then perhaps the below will help win you over!
CRM software is now the biggest software market in the world and according to MarketWatch is expected to grow by 14.5% CAGR between 2020 and 2025 and reach $64 billion in revenues by 2025.
This continued growth is in part due to the increased popularity of cloud-based technology, the need to successfully address growing customer experience demands and the multiple advantages and benefits CRM can bring to a business, including:
Improved data management, use and security
Easy access to data anywhere, anytime
Deeper customer insights, experience and satisfaction
Workday and process consistency and efficiencies
Increased productivity and resource management
Enhanced business visibility and informed decision making
More leads, more sales and stronger competitive advantage
Increase revenue, profit, business scalability, growth and value.