With most of us having to work from home on and off for the foreseeable future, we may be looking at creating or upgrading a dedicated home office space. You may also have been working from home for a while, on a kitchen or dining room table, and now realise that's not going to work in the 'new normal'.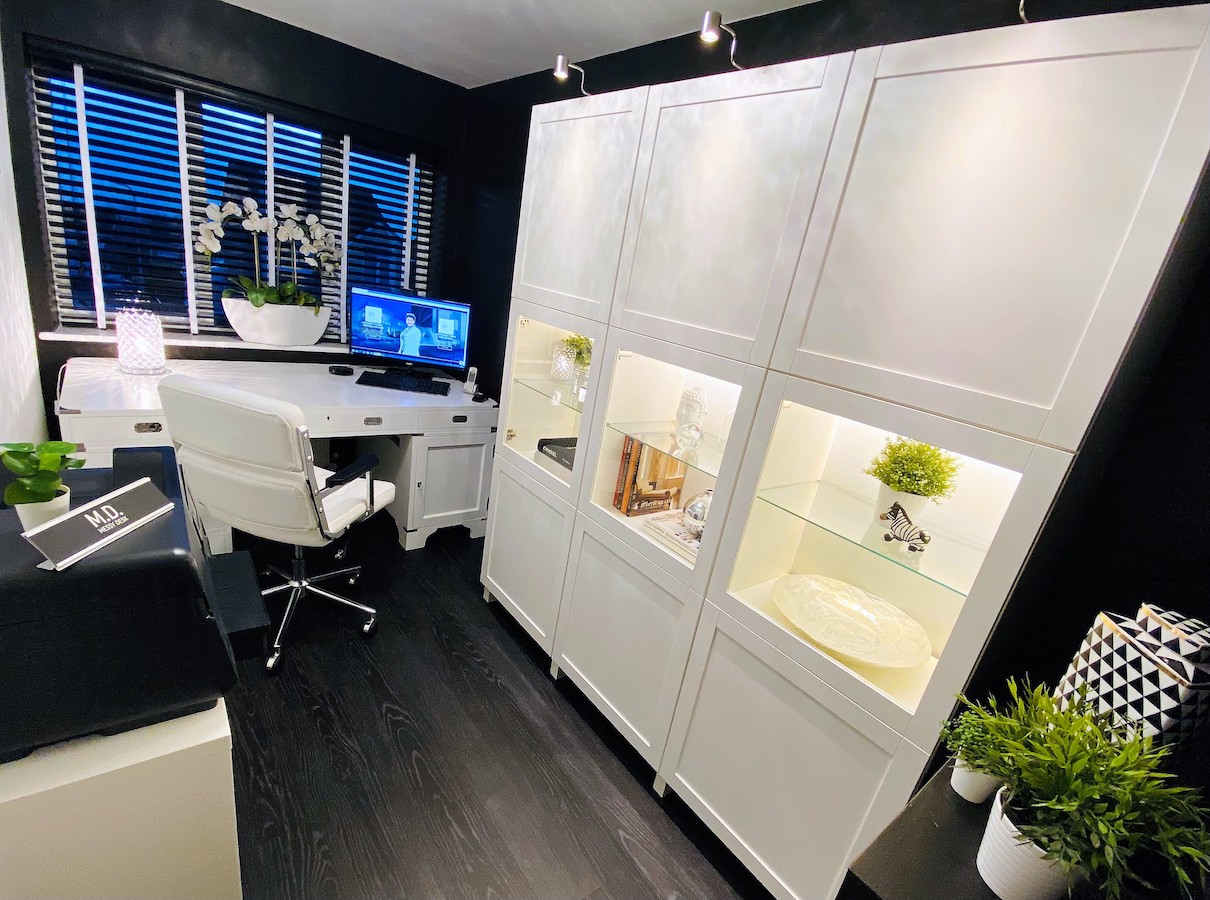 Make A Plan:
The best advice I would give to anyone is to make the most of the space you have and then make a plan. Making a plan is imperative before you buy anything different or new.
When you are working you need a space that is functional and practical. By thinking out the space you have before buying a desk, filing cabinets or other equipment you can make the space work well for you.
Get out a tape measure and take accurate measurements to find out what you can fit into that space. Take into account the location of power points you might need to access as well as the position of any window or door. This will really help when it comes to moving furniture from elsewhere or committing budget to new furniture or accessories.
Keep Work & Home Separate:
Having worked from home for over 25 years one of the main things that has been really important for me is to have a desk/office away from the TV and the rest of the family area.   More importantly for me was not to work from the sofa or from a bed.
Try and separate the work space from home space and if possible at all, decorate the office space in a different colour from the family space so that it sets the tone for the day that this is "work".
This is important for your mental wellbeing as it segments your time into work time and family or home time. While lounging around in your PJs, while sipping coffee, and being cross-legged on your bed may seem appealing – so will going back to sleep, taking personal phone calls, just doing the washing, chatting with family members etc etc.
It can also be difficult for other members of your household when their space and time is taken up by you not managing your own time well. Alternatively you don't want to spend lots of time telling other family members to 'shut up', 'turn that down', 'no you can't have the tv on' over and over again. It's exhausting for everyone.
Think About Natural Light: 
I have also found the best positioning for a home office if possible is near natural daylight and to ensure you have a good blind or window dressing.  This is even more important in today's busy virtual world of Zoom and Skype.
However do practice on those virtual platforms before making a decision, having light directly behind you can make you difficult to see with your face in shadow and the background all blown as the light distorts in the screens of those talking to – and looking at you. Check that this can be remedied with a blind or curtain – or move the desk so that the light comes in more at an angle.
How To Use The Smallest Or Underused Spaces
One of the most under-utilised spaces in a small home (often a 'two up, two down') is the understairs. Sometimes it's used for storage, books or to house the TV on a stand or for general clutter.
If you have a small area under your stairs this is an ideal space to put a small desk and shelving. Or even a built-in desk with bespoke shelving, carefully positioned lights and it becomes a compact yet functional offce.
You can also be creative with space in a large hallway or landing area where space can often be wasted.  A console table can often double up as a desk area which can be cleared of office papers on a weekend and brought back into your family living environment.
Nine times out of ten most of us will be using our garages to store junk.  Garages make a great office space and especially so if you need to see clients at home.  Using an interior designer is often cost effective for this as they will see the space with new eyes and will save you spending money on furniture or office equipment which just won't work.
If you don't require a large office space in your garage, you can even try splitting it up and retaining part of the garage for storage – and that doesn't mean creating a wall of junk to separate you from the clutter. If you do this, it won't last as an office. The mess may well get you down.
What about adding a room in your garden? 
If you have space in your garden you might consider adding an outside room.  There are lots of great cabins and sheds on the market now that would work well for an office.  However, it's important to put in heating, good lighting, check utilities and planning permissions etc. We spend a lot of time in an office and if it's cold, damp or in any way uncomfortable it will not work as a long term solution.
Here are my top five takeaways for you – the things you might not think of now, but will really matter later:
How much time do you spend on the phone?  Will you need to have a quiet space away from the busy home life to make and receive calls?  if this is the case its best to bite the bullet and create the space in a spare bedroom or garden if that's possible for you.
What does your space need to include.  i.e. will you need a printer – if so consider trailing wires!  it would not be ideal therefore to set up in the dining room. Are you handling sensitive data, your employer may require your set-up to be cyber secure and away from prying eyes, even if that's your partner, child or other family member.
What storage will you need? Consider this right at the very start of planning your space.  Does it need to be lever arch files, box files or suspension files?  Will you require an area to store books and material. You don't want to stick stuff in the garage for example and then have to keep going in and out every single day.
Invest in a set of drawers to neatly file everything away at the end of the day.  A cluttered space is very off putting to work in and will quickly become overwhelming and claustrophobic. This is especially important if you have limited space and your office area is under the stairs, on a landing or in a hallway.
One of the most important things to consider is to invest in a good chair.  It is highly important if you are sitting for long periods throughout the day as this will have a big impact on your posture
By Mandy St John Davey, property developer, property coach and private landlord who is known across the UK as a leading light in the property and construction sector. During lockdown she's launched her interior design business – Designed By Mandy. Based in South Wales but working internationally you can find out by visiting https://mandystjohndavey.com