Location Collective will launch a new 224,000 sqft film studio in the capital during late summer 2021 to help meet film and TV industry build space needs. Increased studio facilities will mean new, and more, productions can choose to shoot in the UK during the current post-Covid filming boom as major studios and streaming companies look to catch up on content production after the pandemic.
Filming in the UK post-pandemic is proving more popular than ever as the successes of the vaccine roll-out to date add to the confidence provided by the UK's stringent Covid-19 safety protocols, along with all the long-standing benefits of shooting in the UK, including significant film and TV industry tax-breaks, breadth of architecture and landscape, and world-class talent and filming infrastructure.
Leading provider of space to the film industry, Location Collective, will open doors to the Enfield-based OMA:X Film Studios this summer,  just 750m away from the company's first film studio venture, OMA Film Studios. This new facility is a significant addition to Enfield's emerging identity as a centre for film production activity, and provides critical space for the industry in a post-Covid filming boom.
Over the past decade, the UK has benefited hugely from a steady rise in global filming activity as increasingly more content has been made. The total spend on UK film and high-end TV production reached £3.62bn in 2019, a 16% increase on the previous year, primarily driven by investment from major studios and content providers including Disney, Netflix, Warner Bros, Apple and NBCUniversal.
The key challenge resulting from an increase in production within the UK has been the need for space, with studio facilities in particular being in very short supply. "There is nowhere near enough space," says Chris Berry, a director at Lambert Smith Hampton. "We estimate there is an immediate need for 2m sqft more of studio space. That's approximately four more Pinewoods."
Prior to the Covid-19 outbreak, film locations agency Location Collective saw an opportunity to answer this need, offering an alternative and more efficient way of creating the studio space the industry requires. The company secured a lease on an existing industrial depot site, well situated for film and TV industry use in the London borough of Enfield, and set about converting it into the biggest film studios inside London. OMA Film Studios was completed in August 2020 and quickly secured a long-term tenancy from one of the major industry players.
Now, just 9 months later, Location Collective are gearing up to open their second facility; one which is 50% larger than OMA Film Studios and will itself become the largest film studios inside London.
OMA:X Film Studios, a 10 acre warehouse site leased from global industrial property group Goodman, is currently being converted into a high-specification film studio by Location Collective and will open in late summer 2021.This opening could not come at a better time for the film and TV industry in the UK as activity rapidly ramps up post the Covid pandemic, and stage space remains in critically short supply.
The volume of content having been consumed by us all throughout a year of mostly being at home, coupled with a backlog of slated filming projects from major streaming companies eager to continue to win subscriptions for their services, means the film and TV industry in London is busier than ever. Virgin Media says viewers in the UK spent a third more time watching Netflix during lockdown, and there has been a general doubling of viewing of video-on-demand content since 2017.
Besides the enduring reasons that the UK has always been popular for film and TV producers (significant film and TV industry tax-breaks, breadth of architecture and landscape, and world-class talent and filming infrastructure), other factors are now making London a popular choice. The successes of the vaccine roll-out to date across the UK are adding to confidence, as are measures that the UK Government and film industry bodies have put in place to kick-start post-Covid filming. During the summer of 2020, the British Film Commission published guidance for Covid-safe filming which was endorsed by the Government, who also set up a £500m fund to underwrite the insurance of productions impacted by Covid-19.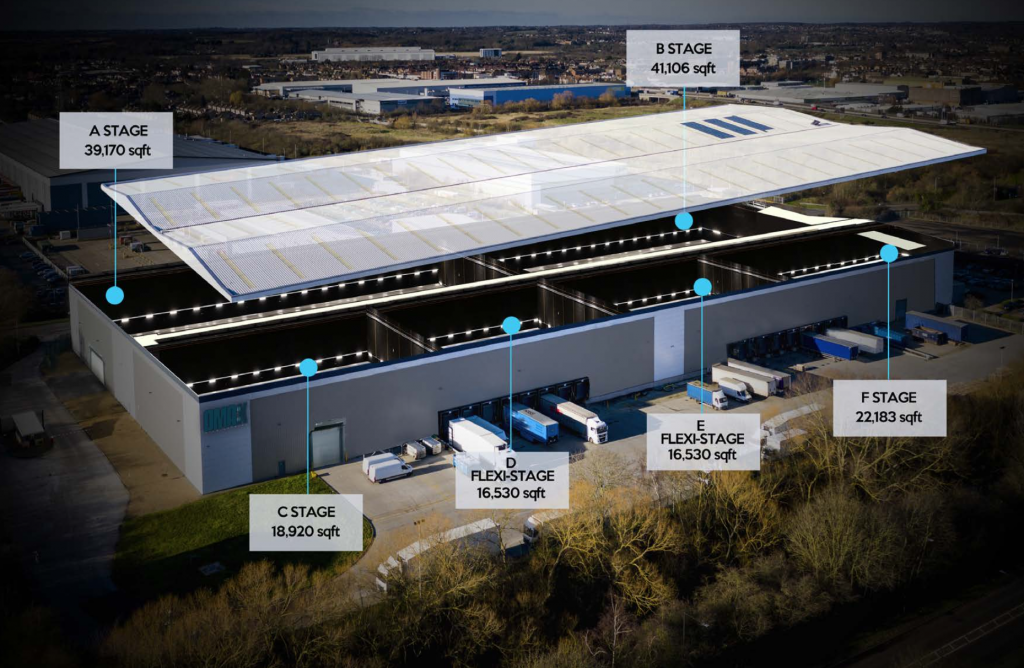 Samantha Perahia MBE, Head of Production UK at the British Film Commission, commented:
"This addition to the UK's filming infrastructure is very welcome. As we emerge from the Covid-19 pandemic crisis and the successes of the vaccine roll out to date, added to the confidence provided by our stringent Covid-19 safety guidance, we are seeing more demand for filming in the UK than ever before. The British Film Commission is focused on the key role our sector can play in supporting the UK's recovery, through billions of pounds of investment into the economy, and associated employment and skills development opportunities across the UK's nations and regions."
Antony Iredale, Managing Director of Location Collective, said:
"We are extremely excited about the role OMA:X Film Studios has the potential to play in bringing the biggest, highest profile productions to London and the UK. The message we're receiving from studio executives we've spoken to over the last couple of months has been the same: 'London is where we want to make this project, we just need to find enough space to do it'.
The site has perfect 'bone structure' for film studio use. The building's 46ft working height clearance and vast pillar-less spans have provided us with a rare opportunity to create sound stages of significant size and scale.
It's a site I've driven past for many years and thought about how fantastic it would be to make it available for film studio use. Now, we are very fortunate to be in the position of making it a reality. As with OMA Film Studios, Enfield council has been hugely supportive of our plans, demonstrating once again the borough's commitment to placing Enfield on the map as a film production hub."
Cllr Nesil Caliskan, Leader of Enfield Council, stated:
"Location Collective's decision to expand in Enfield with the opening of OMA:X is hugely exciting and beneficial for the borough, and will attract a continuous flow of high calibre film and television productions for many years to come. We have worked closely with London Collective to make this vision a reality and we are delighted that London's largest film studio is opening in our borough.
The creative industries make a large contribution to London's economy and OMA:X together with OMA Film Studios will complement the growing film and entertainment industry at Meridian Water, and support Enfield Council's plans to support good quality, long-term jobs for local people, as well as further enhancing cultural aspects across our community."
George Glennie, Development Director, Goodman UK, commented:
"We're delighted that Goodman London Enfield provides Location Collective with a high quality space that is modern, flexible, and well-positioned for the M25, and is just 14 miles from Central London."
To find out more, visit https://www.omaxfilmstudios.com