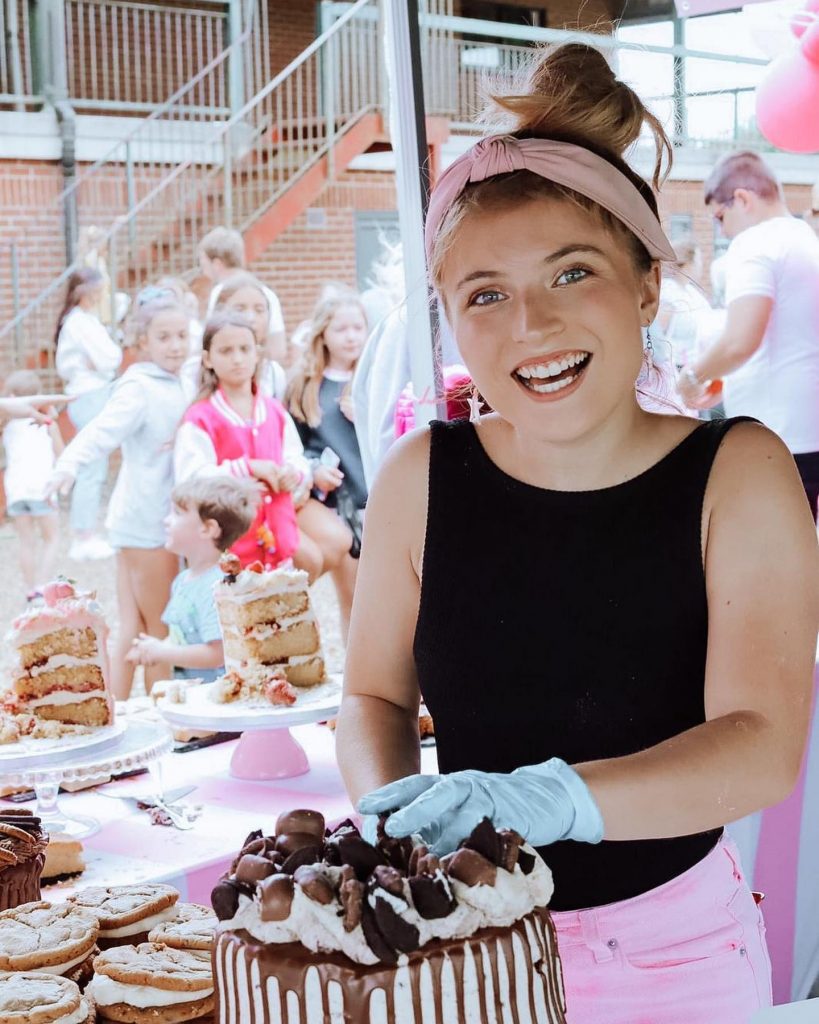 A 19-year-old female entrepreneur who went from family kitchen to international baking fame!
As a child, Morgan Lewis dreamed of being a West End star. But after numerous rejections from performing arts schools and sixth form colleges, she turned her attention to baking – a lifelong passion she'd initially learned from her family's au pair.
After launching her business at the height of the pandemic, Morgan now runs Bakeaholics, an internationally recognised bakery with tens of thousands of social media followers and multiple staff members.
At just 19 years old, she is paving the way for other young businesspeople to follow in her footsteps and realise their own entrepreneurial ambitions: most certainly a female leader to look out for in 2022.
In a Q&A with Morgan she shares her thoughts on what it takes to become a successful entrepreneur and some insightful advice for other people looking to launch their own businesses. She also shares her big ambitions for the Bakeaholics brand heading into the New Year.
Q: How have you built your brand? 
Morgan Lewis: Social media is the platform that we've built ourselves on. We cover around 37,000 people across Instagram and Facebook currently. And we are forever grateful for social media. We're now at 26k on Instagram and we've got people following us from all over. We're quite lucky that a lot of them are local, but you see people who follow us from America, Australia, everywhere – it's amazing!
Learning how to use social media to your advantage is incredible. It is all about trying to stay on-trend with the hashtags and that really can build a business.
I've got so many local friends that have small businesses: they all use Instagram to advertise. Although we do have a website, Instagram is still the main tool for taking our bookings.
Q: How have you needed to adapt during the pandemic?
ML: I can't deny that I'm forever grateful for COVID – in a very ironic way. But when it first hit, I was worried. All the markets that we'd started, stopped. I booked around 25 events; they all were cancelled. Everything kind of shattered within a week around us. I say it was a bit like The Hunger Games: survival of the fittest. You kind of had to think on your feet. So, we then started doing doorstep deliveries with no contact, that was the way forward.
The second most daunting thing was opening the shop. You always get that fear that you've now taken on this lease, wondering if people are going to turn up. I don't think I slept a wink the night before we opened the shop on April 1st this year. And then to my surprise, we had the busiest day ever and the most wonderful grand opening.
Q: Do you think entrepreneurs are born or made?
ML: All I've known is my dad running his own company. We are very much the same.
My dad was more on board with Bakeholics from the beginning. However, my mum's side of the family was more conventional and they would have preferred me to do a degree.
I really think there should be a route for the creative people in life. Because I wasn't academic, I was told, "Morgan's not gonna do well in her A levels", "Morgan's not going to go to university." It was a constant negative.
I may not be able to sit down and recite Pythagoras' theorem, but I can bake a tasty cake or dance and sing. Without creatives and more practical people pursuing their passions and following their skillsets, we wouldn't have theatre, bakeries or even mechanics.
While I spent a lot of time on acting and performing arts, this wasn't wasted. I still use those skills every day. Not only do they come across in our social media content, but also in the videos we produce. It really has helped me build the personality behind the Bakeaholics brand.
Are entrepreneurs born or made? I'd say it depends on the individual, their upbringing and their personal circumstances – but, for me, I was almost certainly destined for the entrepreneurial path!
Q: What advice would you give to other young female entrepreneurs?
ML: To anyone out there that is thinking of doing something for themselves, you will always be told that you're doing something wrong, but just go for it. Look at what you've got around you, see what you can use. You don't have to start off with massive investments, you can start from nothing.
Bakeaholics began in my parent's kitchen, with a handheld mixer; now I'm in a commercial unit with multiple staff members and industrial equipment. Every business starts somewhere and just because you don't have all the resources of a bigger company, it doesn't mean that you can't grow into one in the future.
Q: What's next for Bakeaholics in 2022?
ML: Our big aim for 2022 is to branch out nationally and take the Bakeaholics brand to even greater heights.
We're working on a postal service that will enable everyone across the UK to access our products and we'll also be launching a range of teaching classes, including children's parties, one-to-one sessions and group lessons.
We hope to start attending two markets per month and to help us expand outside of Norfolk and Suffolk, we're looking for a fridge lorry to transport our products to food events and shows in other parts of the country.
Provided everything goes well, we're hoping to double our unit space to increase our capacity and a second shop opening is also on the cards!
Listen to Morgan's full interview with NerdWallet on the makings of an entrepreneur: https://www.nerdwallet.com/uk/business/are-entrepreneurs-born-or-made/
Morgan's views were captured in a research project conducted by leading financial comparison website, NerdWallet, which investigated whether entrepreneurs are born or made.
NerdWallet's findings based on a series of entrepreneur interviews.