Nadav Shraibom is the Scientific Founder at Medovie, a skincare company for people suffering with chronic skin conditions.
Nadav Shraibom is an expert on all things skin. Hailing from his home of Israel, his journey into the world of skincare began in San Francisco, where he studied Traditional Chinese Medicine (TCM). Fuelled by his newfound passion, as well as his personal encounters with skin problems at university, Nadav decided to focus his efforts on developing remedies to help relieve those who also suffer from skin issues, such as psoriasis and eczema. "As someone who has suffered themselves, I understand exactly how it feels to go through something like psoriasis," he says. "So, skin conditions are personal to me, and that drove me to look for something that could save many people a lot of suffering."
Over the past two decades, Nadav has built up an impressive experience: with time in medicine; running a private practice and observing psoriasis patients before co-founding skincare brand Medovie. This broad, combined perspective on the worlds of TCM and modern medicine have given Nadav insights and revealing a fundamental gap in the market for chronic skin condition products: "There are products available employing the knowledge of one field, or the other, but there's nothing that offers a synthesis of eastern and western sciences like we do at Medovie. This gives us a chance to offer someone a different – and in many cases a more effective – option." He says.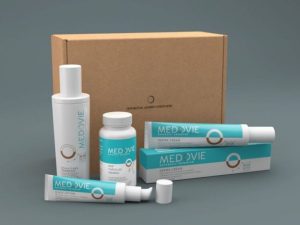 Nadav's interest in Traditional Chinese Medicine was cemented after an extended research trip to China,  where he gathered as much information as possible in fields such as oncology and inflammatory disease treatments. There he met Dr Lee, an oncologist MD, where he discovered the inspirational combination that she used on her patients – combining Western treatment with Chinese herbs. For several years, Nadav strengthened his experience as he worked in the oncology units of renowned hospitals in Israel, providing natural relief to patients based on these herbs. This provided him with the knowledge and vision to investigate solutions for acute skin conditions.
Satisfied by the encouraging scientific findings, Medovie launched in 2020 in the UK – just as the global coronavirus pandemic hit. From many conversations with their customers, Nadav and his team heard that sufferers of skin sensitivities were having even more issues than before due to factors including anxiety, stress and fatigue. This made the brand's innovators even more determined to help those in need, particularly entering the winter season where sufferers can become more affected. Together, Medovie wants to support users through their journey to improving skin issues, through innovation, technology and traditional Chinese herbalism.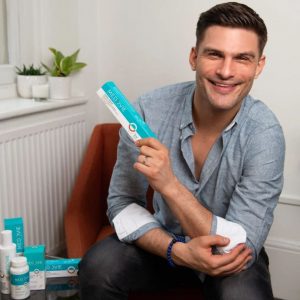 2021 also proved a strong year for Medovie, as the company found new customers and continued growth during the subsequent lockdown and restriction periods. "We initially saw a large spike in consultations during the pandemic, and this has continued throughout 2021." Medovie also gained exposure from celebrity dancer Aljaz Skorjanec, who began using the 3HX products at the beginning of 2021. "His before and after photos really showed how effective our 3HX solution can be," Nadav says. "When he posted these photos on his Instagram, we saw a lot of activity and interest in the brand. We hope this continues to encourage others to discover and benefit from our products" Nadav stresses that his success is only possible because of the tireless work of the wider team:
"The whole team are fantastic and really drive the business forward. Sara, my fellow co-founder, is an incredible businesswoman and her skills allow me to focus on the 3HX formula & science, the products, and providing comprehensive support and advice to each and every customer."