Food entrepreneur Julianne Ponan has donated hundreds of allergy-free snack bars to her local hospital where staff saved her life.
Julianne, aged 30, who lives in Waltham on Thames, suffers from anaphylaxis which means she's at risk of falling very ill suddenly from eating the wrong things and having an intense allergic reaction. She's become known as a campaigner around food allergies.
However, staff at St Peter's Hospital Chertsey saved her when she suffered three attacks of acute pancreatitis – the first and most serious attack when she was just nine years old.
"Now is the time when someone like me and my team can do something small for NHS staff who are working hard to save lives," Julianne said.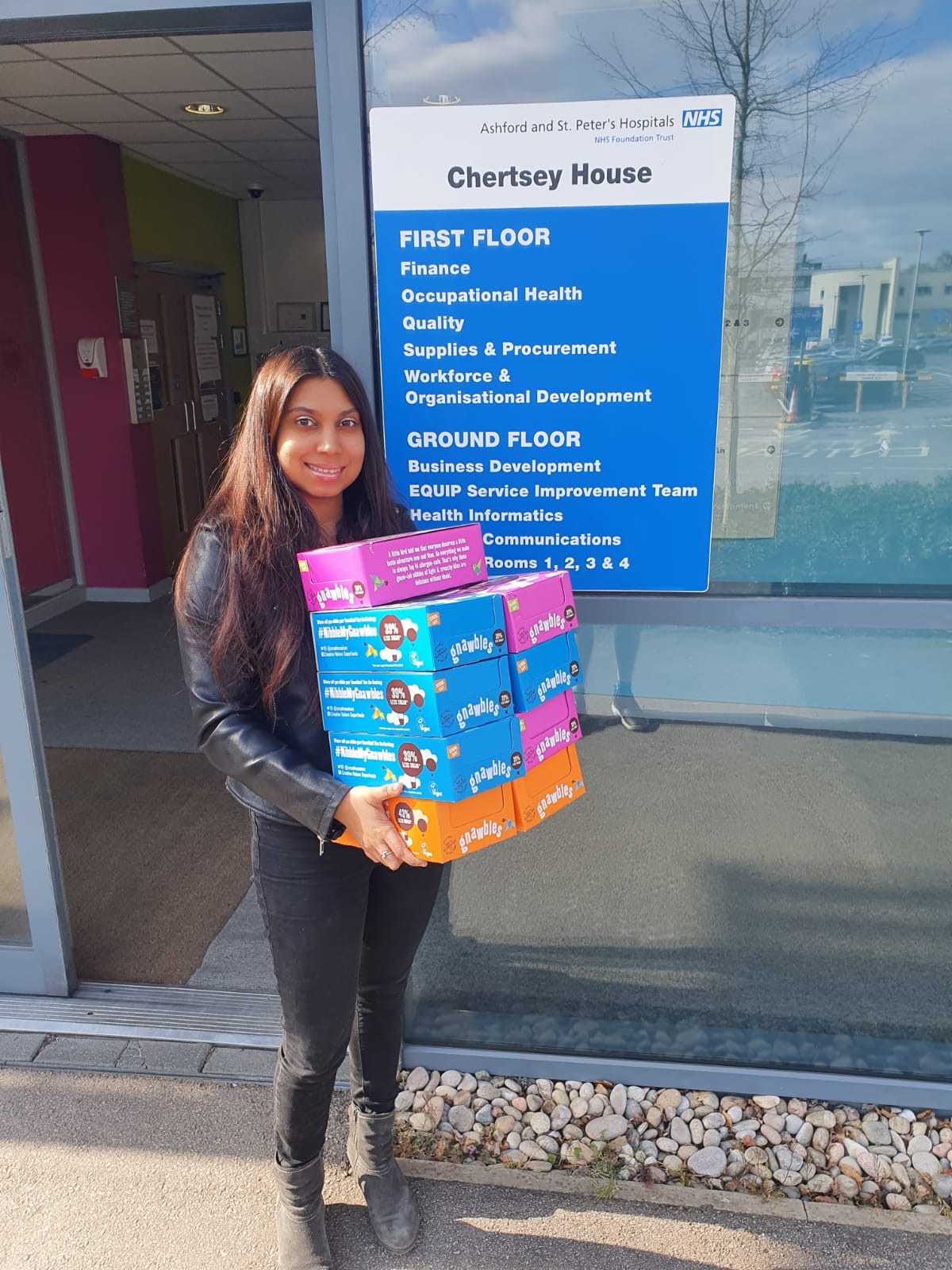 "These bars are useful and healthy snacks for staff who are working long shifts with few breaks and I'll be supplying more when these run out."
Julianne became known to medics at St Peter's due to suffering severe attacks of pancreatitis. This is caused by a swelling of the pancreas, a small organ which helps the digestive system and it can be life-threatening if not treated. It can be associated in children with some kind of physical abuse and it can also be linked to drinking high levels of alcohol. These causes did not apply to Julianne.
Julianne said: "My first attack came when I was nine years old and I had terrible stomach pains. I was, after a few days, admitted to hospital with suspected gastro enteritis and then my stomach turned blue. It was a young consultant who thought I might have pancreatitis."
"Tests showed I had it and poisons were spreading throughout my body and my parents were told I had about four hours to live. Thanks to the prompt treatment I received I got through those four hours and slowly recovered."
Julianne had two more attacks of the condition aged 17 and then aged 20. Both times teams at St Peter's began treatment immediately.
During these difficult times, Julianne felt compelled to help her the hospital in Chertsey as best she could. By arrangement she delivered the boxes safely to staff and communicated with them virtually.
Julianne is the CEO of Creative Nature, a free-from snack company which produces snacks including bars, baking mixes and sweet treats called 'Gnawbles' which are free from the top 14 allergens. The products are also vegan and lower in sugar than other alternatives. To find out more about the company visit www.creativenaturesuperfoods.co.uk